It is, however, precisely the enormous scale of the problems in one of the European Union's smaller members that is drawing the attention of commentators across the globe.
With GDP set to drop by at least 10 percent in 2009, according to most estimates, plus inflation that has only just returned to single digits, yawning current account and trade deficits, rising unemployment, devaluation pressure and a housing market that has gone from boom to bust, it might seem Latvia's situation couldn't get worse.
But add riots by young people and blockades by angry farmers in the capital, Riga, plus a huge 7.5-billion-euro ($9.5-billion) emergency bailout by the International Monetary Fund (IMF) in recent weeks, and suddenly things get even more serious.
As a result, analysts and experts around the world are dedicating an unprecedented volume of column inches, charts, graphs, analysis and predictions to the tiny Baltic state with a population of just 2.3 million.
Even Nobel economics laureate Paul Krugman commented on Latvia in December 2008, describing it as "the new Argentina" in an online discussion about the effects of currency devaluation.
Unprecedented, enormous deficits
As a result Latvia finds itself gaining the media publicity that it has been craving since it won its independence from the Soviet Union in 1991 -- unfortunately for the wrong reasons.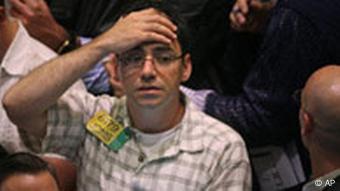 Economists have never seen anything like Latvia's crisis
"There is no precedent for Latvia in the sense that while some of the problems have happened elsewhere they haven't done so to the same extent," Shearing told DPA news service. "The scale of the deficits in Latvia is enormous -- a current account deficit of 20 percent of GDP is unheard of."
"When I quote such figures, I've had clients phoning up and asking 'Are you sure about that?'" he added.
Roger Wessman, head of research with Nordic banking group Nordea in Finland has also noted increased interest in the Baltics, in general, and Latvia, in particular.
"I definitely agree that economists are in general more interested," he said. "In the past couple of years we've seen heightened interest and a heightened concern. We had a very high peak at the time of the negotiations between the Latvian state and the IMF.
Latvia versus Estonia in race to be the worst
"Latvia is competing for having the worst slump in the EU with Estonia, but it wouldn't be an exaggeration to say it is at the extreme end of the economic spectrum," Wessman said.
But hopes still linger in Latvia that current notoriety could be turned into something positive in the longer term.
According to Ojars Kalnins, director of the Latvian Institute which is responsible for promoting the country abroad, if the Latvian story is a novel, the country is just passing the opening chapters that capture the reader's interest.
"In a world of bad economic news, we have a unique case developing," he said. "If Latvia were to weather this storm, a bad news story would become a good news story," Kalnins insisted.
"As in any good novel with plot twists, things may get worse before they get better, but if there is a happy ending, well, then you have a rip-roaring story!" he said.