The Johanneum is the oldest and most richly decorated school in the hanseatic city of Hamburg. Behind the 19th-century building's brick walls, classical languages have always been held in high esteem. At the secondary school, students are learning Latin - and have been since fifth grade.
"Many parents select the Johanneum school because they want an particular kind of education for their children," said Anna Schünemann, who has been teaching Latin and German there for four years. She looks upon elitism with a critical eye, though. Latin is far more than a subject of distinction with which parents can promise their children an advantage, she says. She teaches Latin with a passion and tries wherever possible to share that delight with her students.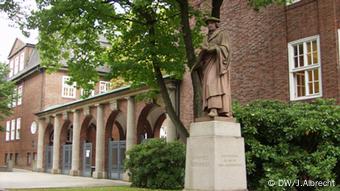 Where Latin reigns: The Johanneum school in Hamburg
After 2,000 years, Ovid still speaks
In order to bring the Roman epoch to life, Schünemann projects an image onto a screen as a springboard for student discussion. On the projection screen, Romans can be seen sitting upon a tribunal. "Spectatum veniunt spectentur ut ipsae," reads a student, Carla, from her Latin booklet.
The translation resonates with a few of her peers: "They come to see and be seen." The students eagerly discuss what these words, written by the Roman poet Ovid more than 2,000 years ago, have to do with their lives today.
Schünemann always hopes to create lessons that are vivid and fun and that stimulate a sense of interest in Roman culture amongst her students. "When I went to school, the focus was on the structure of the language," said the 33-year-old teacher. No surprise, then, that she first found her love for Latin at university.
The high school teacher is quite candid in explaining how she discovered Latin. She'd only chosen it because she wanted to be a teacher - and Latin teachers were in demand.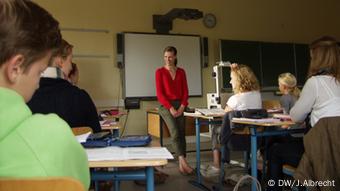 Anna Schünemann instills a love of all things Roman
Latin students converging
Schünemann's logic is one that recent high school graduates have discovered for themselves. For the last seven years, universities have seen a steady uptick in matriculated Latin students.
"Increases at the primary and secondary school levels are trickling up into universities," said Claudia Schindler, who directs the Institute for Greek and Latin Philology at the University of Hamburg. "The schools, especially those that seriously reduced classic Latin and eliminated the corresponding teaching positions, are suddenly finding themselves confronted by masses of students who've chosen Latin as the focus of their studies."
Whether reason or passion lies behind the recent surge, university students share at least one thing in common: They have chosen the subject of their own free will. With school children, however, things are a bit different.
"My mom wanted me to learn Latin," said Ruben. He laughs, and his peers smile in complicity. If Ruben had had his way, he would be learning Italian. As for his classmate, Carla, English is just more fun than Latin. Sitting next to her, Markus adds that even though not so many students from his class will use Latin later in life, the classic language trains you to learn.
"Latin is a very logical language, and it helps you to think clearly," he said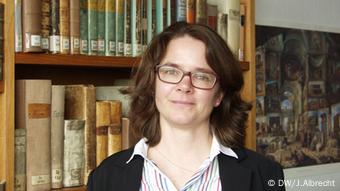 Claudia Schindler at the forefront of the Latin Renaissance
The German exception
Many adult proponents echo the 14-year-old's arguments. In Germany, perceptions of the value and utility of Latin are once again rising. That's a far cry from Germany's European neighbors. With the exception of Austria, the subject has nearly disappeared from classroom schedules, with even Italian and French students hardly touching upon the roots of their own Romance languages.
It also stands in contrast to Germany's own university curriculums, where there seems to be a consensus that one rarely needs - whether in Germany or outside of it - the Latin language.
At the University of Hamburg, Claudia Schindler believes that Latin lessons can give a significant educational advantage to children of immigrant families. She refers to a study from Humboldt University in Berlin which showed that Latin instruction assists general integration.
"When you allow, for example, a Turkish student to learn Latin, it gives that student analytical access into that language. And analytical access into that language will help that student to learn yet another language," Schindler said.
But for her, as well as other lovers of Latin, this language of antiquity is much more than a gateway toward other languages, logical thinking, or the mastering of other disciplines. "It is a piece of our culture. One grasps the roots," added Schindler.