It has to be a leaner cabinet, much smaller than the 42-minister body that was appointed when rivals Mwai Kibaki and Raila Odinga agreed to a grand coalition five years ago, in the aftermath of the horrific 2007 post-election violence.
Under constitutional changes made in the meantime, Kenya's cabinet should contain no fewer than 14 but no more than 22 ministers.
But in addition to delivering a leaner cabinet, Kenyatta was also under pressure to change the style of leadership in Kenya, according to Kenyan political analyst Brian Singoro Wanyama
"We expect Uhuru Kenyatta to break with the past in which the president appointed sycophants and now he should be able to come up with a cabinet that consists of qualified professionals with a clean performance and enviable track record," he said.
Reaching out
Wanyama also said regional balance would be important.
"I believe that he will go out his way to extend an olive branch to the areas that overwhelmingly voted against him," he said.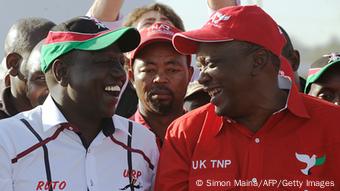 Uhuru Kenyatta and William Ruto agreed on a fifty-fifty division of government posts
Kenyatta signed a fifty-fifty agreement with his running mate William Ruto. Under this deal they would share cabinet and civil service positions equally between their respective parties, The National Alliance (TNA) and the United Republican Party (URP). Wanyama believes they will abide by this because they will want to show from the very beginning "that they are not about to start breaking agreements."
Earlier Kenyatta had promised Kenyans he would be striving for double digit economic growth and told the nation's highly paid legislators that holding down the state wage bill was vital to ensure public funds were spent on development.
The son of the nation's first president, Jomo Kenyatta, also told parliament on Tuesday his plans included attracting more tourists, promoting manufacturing, modernizing agriculture and extending healthcare.
Meanwhile Kenya's supreme court has said that the conduct of the presidential election in March was not perfect, but petitions lodged to overturn the result did not prove that Kenyatta was elected illegally.
The court announced its ruling in March, but only released a 113-page written decision this week.