Kenya Airways said its pre-tax loss had grown from 4.86 billion Kenyan shillings ($48 million) to 29.71 billion shillings ($293 million) in the ending in March 2015.
Last week the airline announced it had chosen the African Export-Import Bank in Cairo to advise it on raising capital and arranging a $200 million bridging loan.
However, Kenyan finance minister Henry Rotich told the Reuters news agency on Tuesday (04.08.2015) Kenya Airways may require a $500-600 million bailout.
Final figures would depend on a turnaround plan being prepared by Mckinsey and Seabury consultants, who had been hired by the airline, he said.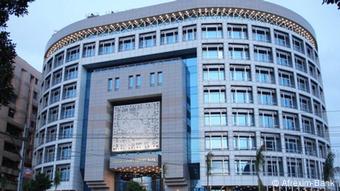 Kenya Airways has said it will approach the African Export-Import Bank in Cairo for a bridging loan
A DW correspondent in Kenya, Alfred Kiti, says there is public outrage over the carrier's losses and some people have even suggested that the government should take it over. But Evanson Mwaniki, chairman of the airline's board of directors, said creating a state-owned enterprise wasn't the answer.
"We were there before and we did not make money. We made money after privatization," he said.
Kenya Airlines was privatized in 1996 and is partly owned by AirFrance-KLM. According to the Kenyan newspaper Daily Nation, the government possesses a 29.8 percent holding.
New planes and fewer tourists
Kenyan Airways' debts have been caused by a combination of new planes purchases and a slump in passenger numbers. Tourists are staying away from Kenya's palm-fringed beaches and safaris following a spate of lethal attacks by Islamist militants.
"We had growth of the fleet which was not matched by revenue growth," said the airline's finance director Alex Mbugua. The "growth of fleet" was the purchase of Boeing 787 Dreamliner planes which began in 2013.
Among Kenyans tweeting support for the carrier was Kenya Airways shareholder and owner of Capital FM, Chris Kirubi.
Kenya Airlines has been hit by competition from Gulf carriers, a loss of 5.78 billion shillings from hedging against fluctuations in the price of crude oil, and by the Ebola outbreak in West Africa.
However, Nairobi based economic analyst Rufus Mwanyasi sounded an optimistic note. "If we go back to 2002, the company faced similar challenges and they were able to get out of it."
Kamanda Morara, an analyst with Shanti Research Limited, told Daily Nation the airline could survive if its debts were restructured, unnecessary assets disposed and costs cut. But if creditors demand what the airline owes them, then Kenya Airways would have to wind up.