Karadzic's alias was part of an elaborate charade that included a long white beard, a mistress and an alternative medicine website. It ended after 12 years on the run with his arrest Monday this week in Belgrade.
He had identity papers issued in the name of Dragan David Dabic, a Bosnian Serb soldier in his late 30s who was killed in the Bosnian capital in 1993 during the country's ethnic war, Serbian media reported.
And Karadzic allegedly stole 36 million marks from the Bosnian Serb region's central bank in 1997, when he was already undercover, a Bosnian newspaper said Thursday.
Serbian intelligence involved?
Serb authorities are expected to turn over Karadzic within days to the UN war crimes tribunal in The Hague, where he faces charges including genocide and crimes against humanity for his role in the 1992-95 war.
Karadzic, 63, will tell the tribunal "he is proud of everything he did and for saving Serbs in Bosnia," his lawyer Svetozar Vujacic told the Politika daily.
Karadzic will prove that the accusations are false and that he is charged only because he is a Serb, his lawyer added.
Serbia's secret service is widely believed to have helped Karadzic with his undercover life.
His fake documents were issued legally in Ruma, 50 kilometers north-west of Belgrade, most probably with the help of Bosnian Serb officials, reports said.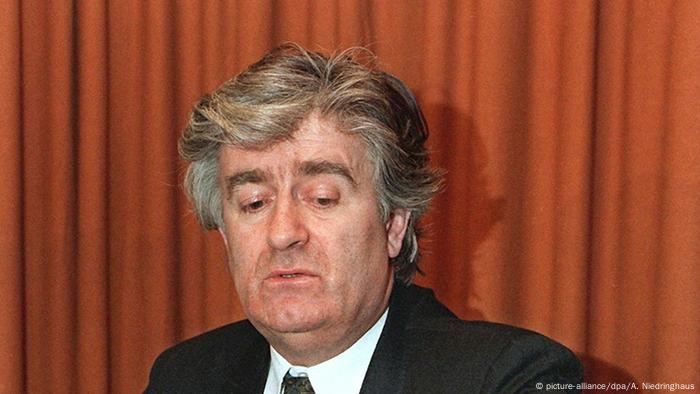 False documents were also used by other war crimes suspects arrested in Serbia. Stojan Zupljanin, who was arrested on June 11 in the Serbian town Pancevo, had documents under the name of a man who died more than 10 years ago.
Zupljanin, a former Bosnian Serb police commander, has been indicted by the UN war crimes tribunal in The Hague on charges of genocide and crimes against humanity.
In Serbia, proof of citizenship, a birth certificate or an old identity card are needed to obtain identity documents. One also needs to give a fingerprint. Karadzic was not a citizen of Serbia.
Karadzic stole funds, paper says
A Bosnian newspaper Thursday quoted a 2005 a interview it conducted with Milorad Dodik, currently prime minister of the Serb entity in Bosnia, in which he claimed that Karadzic in 1997 stole 36 million German marks from the region's central bank.
"There are documents that Karadzic in the spring of 1997 took 36 million marks in a bag from Banja Luka," Dnevni Avaz quoted Dodik as saying. "He first took 28 million marks from the bank's safe and then eight more."
Since Karadzic's arrest, Dodik has offered to help Karadzic's family travel to the Hague and visit him.
The family cannot travel without the permission of the international representative in Bosnia. They've asked for their documents to be returned to them so that they can visit him in Belgrade jail, saying that travelling to the Hague is too costly.
"After 10 years of hell, I don't see why somebody will profit from denying us this," said Karadzic's daughter Sonja Karadzic Jovicevic.
Two years ago, Karadzic posing as Dragan David Dabic spent a summer holiday on the Croatian Adriatic island of Ciovo, Croatian media reported Thursday.
Inhabitants say Karadzic visited a local church and spent 10 days on the island, the 24Sata daily said.