Joschka Fischer is often considered to be the most popular German politician of contemporary times. Even the recent visa scandal involving Eastern European immigrants has failed to permanently damage Fischer's status as the country's favorite. His selection as the Green Party's top candidate in the 2002 election campaign supposedly lead to an increase in votes and seats for the Greens and a repeat of that selection this year is hoped to have the same effect.
German foreign minister and vice chancellor in the red-green coalition since 1998, Fischer was seen as a controversial choice due to his history of radicalism.
Born third child of a butcher in Gerabronn, in the southern state of Baden-Württemberg, Fischer dropped out of high school in 1965 to pursue an apprenticeship as a photographer. This flight of fancy lasted one year, until he quit in 1966.
A year later, Fischer began his involvement with the left-wing movement, first in Stuttgart and then Frankfurt where he was involved in civil unrest surrounding protest marches in the city.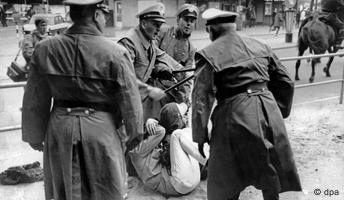 In 1971 he started working at automobile maker Opel as a cover for agitating the workers. Some months later he was fired because of his propaganda activities and made a living through unskilled work as a taxi driver and later as a bookshop clerk in the Karl Marx Bookshop in Frankfurt at the same time as he followed his calling of the time: political activism.
Deutscher Herbst prompts change
But the so-called "Deutscher Herbst," the German Autumn of 1977, a period of leftist terrorism led by the Red Army Faction of Andreas Baader and Ulrike Meinhof caused Fischer to have a change of heart, he has said. Fischer subsequently renounced violent and radical action and became engaged in the social movements and later in the newly founded German Green party, mainly in the state of Hesse.
Fischer was a member of the German Bundestag for the Green party from 1983 to 1985 and became Hesse's environmant minister in 1985 in the first ever state level Social democratic-Green party coalition in Germany.
He was re-elected in 1991 and went on to again become a member of the Bundestag, working as one of two co-chairs for the Green parliamentary group. Fischer became the vice chancellor and foreign minister of Germany in 1998 and was re-elected in 2002.
Support of Kosovo war led to controversial stance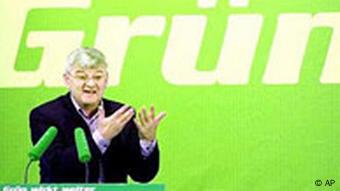 A year after becoming foreign minister for the first time, Fischer was called upon to give his support for German participation in the Kosovo war.
He endorsed the controversial stance, supporting the move to send German soldiers into combat for the first time since World War II. While rumors suggest that Fischer was strongly in favor of stationing of German troops in Afghanistan, he was adamantly against the war in Iraq.
Some say that Fischer's huge popularity stems not from his political conviction but from his personal achievements and integrity.
Thin is in as Fischer reinvented himself
Fischer gained great public respect in 2000 after undergoing a painful, but successful, diet. Until then, he had been a confirmed food and drink fan, which was evident by his substantial girth. Then he abandoned alcohol, changed his diet and, most importantly, started jogging on a daily basis.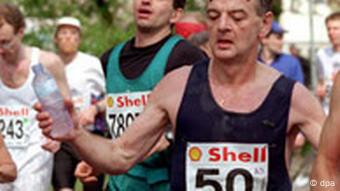 A few months later, pictures of his bodyguards failing to catch up with him during his morning runs became one of Fischer's trademarks. He crowned his weight loss and fitness efforts by successfully completing the New York marathon in 2001.
Fischer said that he completed his diet not only for health reasons but also for philosophical reasons, to renew and find his self. He described his mental and physical development during the diet in the book titled "Mein langer Lauf zu mir selbst" ("My long run towards myself") which became an immediate bestseller in Germany.