José Carreras is celebrating his "25th" birthday - a symbolic event, says the singer, since a quarter of a century ago he was born again. In 1988 the star tenor was cured of life-threatening leukemia after which a new era of life began for him. He founded the José Carreras Leukemia Foundation, a charity which has gone on to raise millions for other leukemia sufferers.
Around the same time, on a professional level his career hit new heights when he teamed up with Luciano Pavarotti and Placedo Domingo to become the globally successful "Three Tenors."
Songs of youth
As an expression of gratitute for the additional 25 years of life he has since enjoyed, the now 66-year-old tenor has recorded a new album. "I wanted to remind people how wonderful life can be and all the wonderful things it can offer us," he said. Appropriately, the album is called "25." A labor of love, it is also highly personal, including favorites from his childhood from Italy, Spain and South America. While he listened to many of these songs as a boy in the 50s and 60s, in many instances, he is singing them for the first time.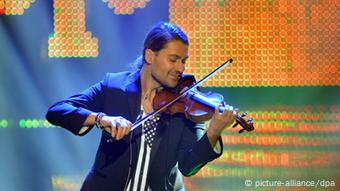 Start violinist David Garrett guests on the album
Popular songs, classical spin
But even with this new repertoire, the opera singer remains true to his musical roots, giving the popular tracks on the album a classical production. Carreras also asked some of music's top names to lend a hand in the studio: Chinese pianist Lang Lang, German-American violinist David Garrett, French accordion player Richard Galliano and British trumpet player Alison Balsom.
Carreras' longtime friend, Puerto Rican José Feliciano, also sings together with him on the track, "Adoro." The musicians contributing to the album worked for free as all the proceeds from record sales go to Carreras' leukemia foundation. "I'm really grateful to them all," he said. "Artists very often have a social conscience. I've worked with some of them before - Lang Lang and David Garrett for example - so I knew they were very generous." Award-winning violinst Garrett also works as an ambassador for the José Carreras Leukemia Foundation.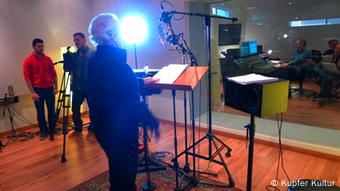 Carreras at work in the studio
Singing for a good cause
To date, Carreras has raised around 300 million euros ($413 million) for his foundation and more than a third of that came from Germany. Since 1995, around Christmas time he has hosted an annual benefit gala on German television in which several well-known musical stars perform. The show generates an enormous revenue for the foundation.
The money raised is used to fund a number of clinics, hospitals and research centers all devoted to fighting leukemia. With branches in the United States, the foundation, founded in Spain, aims to try to find a cure for the disease.
Music as medicine
The music star has not forgotten the time that he himself was a sufferer, when his chances of survival weren't even 10 percent. But he never gave up hope and often listened to music and continued to sing. It gave him strength and orientation. "During radiation therapy I often sang arias to myself," he recalls.
"On the one hand, it was a useful distraction. On the other, it enabled me to estimate the length of my treatment. Because I knew the length of each aria, I knew how much I had got through and how much was yet to come." After a year of intensive treatment, including a bone marrow transplant, the seemingly impossible happened and Carreras was cured.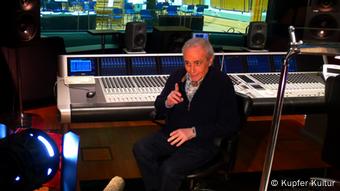 The proceeds of the album all go to Carreras' leukemia foundation
A way of life
After more than four decades performing at some of the world's best opera houses, Carreras gave up performing in 2009. But he didn't stay away from singing for long. "It's simply a way of expressing myself. I can't think of any better job!" It's a privilege, he says, and he considers himself to be very lucky - something he hopes to convey on his new album. One track in particular seems to sum up exactly where Carreras is these days; it's called "Meraviglioso" - a Catalan word meaning "wonderful."