The Tel Aviv Family Court published a ruling on Sunday that the works should be transferred to the Israeli National Library in Jerusalem.
Kafka, pictured, a German-speaking Jew born in Prague, had entrusted all his manuscripts and other works to his friend Max Brod and instructed him to burn them after his death.
However, Brod ignored Kafka's wishes and published the works, which would become some of the 20th century's most influential literature. Kafka succumbed to tuberculosis in 1924 at the age of 40.
Upon his death in Israel in 1968, Brod bequeathed the collection to his secretary Esther Hoffe. He instructed her to catalogue and transfer the collection "to the library of the Hebrew University in Jerusalem or the Tel Aviv municipal library, or (that of) any other public institution in Israel or abroad."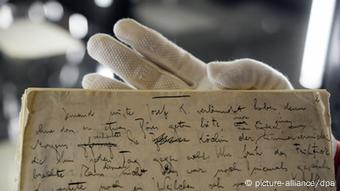 The original manuscript for "The Trial" is held in the German Literature Archive in Marbach
Instead, Hoffe kept the collection and sold parts of it, passing on what remained to her two daughters when she died in 2007. At the start of the case in 2008, the daughters that argued Brod's intent was to make the collection a gift to their mother, and hence lawfully theirs. One of the daughters passed away earlier this year.
Judge Talie Kopelman-Pardo ruled that the Brod collection could not be considered a gift to Hoffe's daughters.
Oren Weinberg, the director of Israel's national library, pledged to eventually post the collection online, "thus fulfilling Brod's wish of publishing Kafka's writings for all literature lovers in Israel and the world."
As a result of Hoffe's sales, some of Kafka's writings ended up in the collection of the German Literature Archive in Marbach, which was also part of the trial, petitioning to be allowed to purchase more.
mkg/rc (AFP, dpa, AP)