Neoconservative US group Secure America Now released a video this week portraying an "Islamic State of Germany" - a Germany of 2020 reimagined with Islamic symbols atop the country's most famous cathedrals, and a "pork and alcohol free" Oktoberfest.
In the mock Islamic State ad, Germany has become part of the caliphate thanks to "infiltration through Syrian refugees." Black, red and gold Islamic State flags fly over Neuschwanstein Castle and adorn the Brandenburg Gate. Spray-painted portraits of jihadi fighters replace Berlin Wall graffiti.
The narrator with a noticeably-thick German accent cheerfully advertises Oktoberfest as a place to "celebrate the marriage of future jihadi soldiers" and notes that citizens "can even sell daughters or sisters to be married."
As an airplane drifts toward the sunset, the mock tourism video ends with the slogan, "Experience a new Kultur of Islam," to Arabic-sounding music playing in the background.
German media lambasts video
Many news outlets in Germany criticized the video, with widely-ready magazine "Der Spiegel" dismissing it as "crude," and the "Berliner Morgenpost" newspaper calling it "gaga."
However, the reception among German readers varied.
Twitter plugged the video as sponsored content, angering some of its users. One follower wrote "disgusting sponsored advertising."
Not everybody agreed, however. One Facebook member called the portrayal of an Islamic Germany "absolutely realistic, unfortunately. The Islamization of Germany is exploding right now."
US audience or German audience?
The fake propaganda has been viewed over 700,000 times on YouTube. As of November 4, it had been retweeted nearly 6,000 times on Secure America Now's feed.
The video is clearly an allegory for Donald Trump's warnings that Hillary Clinton, whom he once described as a candidate "running to be America's Angela Merkel," will endanger the US with similar policies. But it also speaks to widespread concerns in Germany over a mass influx of asylum seekers and migrants - a problem that has boosted support for right-wing party Alternative for Germany (AfD). Trump, himself, has pointed to these political gains as a sign of Merkel's impending fall from power.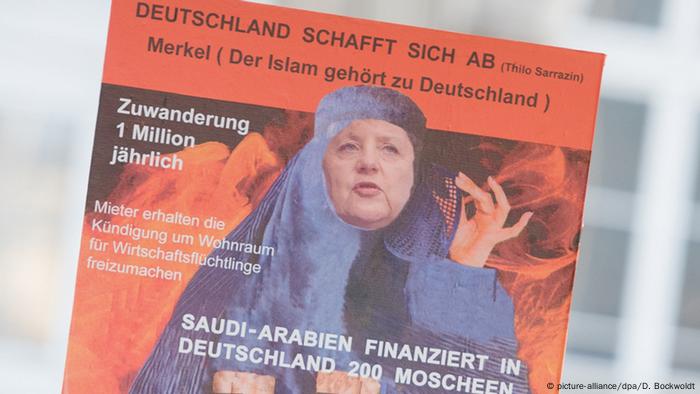 Chancellor Merkel has faced stark criticism at home for allowing over 1 million predominately Muslim refugees and migrants into the country. Groups like Pegida and AfD have stoked fears by claiming that German culture is under threat
Although the German media widely reported that the video was linked with Trump, the Trump campaign has not retweeted or posted it, nor has it commented on it. In fact, the US media has also remained largely silent on its existence.
Wunderkind's agency behind video
The video was produced by Harris Media in partnership with Secure America Now, a self-described grassroots movement of nearly 4 million Americans calling for Hillary Clinton's imprisonment, stronger borders and Secretary of State John Kerry's resignation. John McLaughin, co-founder of Secure America Now, works for the Trump campaign.
However, the ties with Harris Media are less clear. The Trump campaign parted ways with its founder, Vincent Harris, in June to media reports that he had been fired as a subcontractor. A widely-touted wunderkind of political strategy, Harris - who is not yet 30 years old - has been credited with Ted Cruz's success and linked with the likes of Israel's Likud party, UKIP, Sarah Palin and numerous US politicians.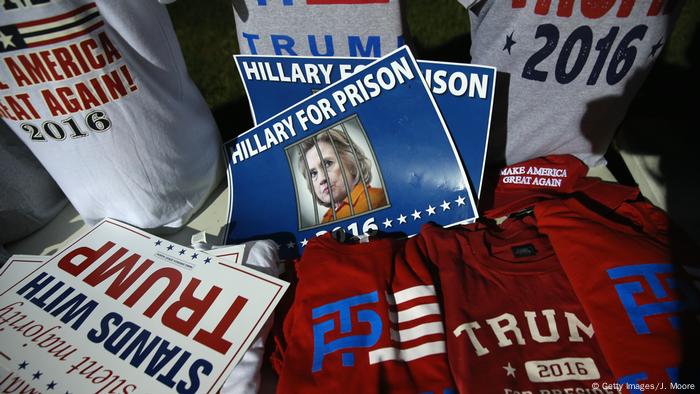 Secure America Now has often partnered with Harris Media. Last month, they launched a website called "Hillary's Inbox," a mock-up of her contentious private email server used during her time as secretary of state
The video is the second of its kind, the first portraying France and the third, reportedly, slated to depict an Islamic State of the US.
In an interview with the Berliner Morgenpost, Harris said he had German parents and that he "loved Germany."
The ad aimed to "shock viewers and to spark a reaction in order to solve the problem of Islamist extremism together," he told the Berliner daily, emphasizing that it was "subtle satire."
"It shows the future that can't be prevented if the West doesn't stand together against radical Islam."