A powerful hardline editor said in an editorial published Saturday that Iran is not in the midst of a crisis, but rather a conspiracy.
Hossein Shariatmadari, editor-in-chief of the Kayhan daily, said Rafsanjani, a moderate who backed Mousavi's election campaign, had done nothing to prevent the gathering of Mousavi supporters inside and outside Tehran University, where prayers are held each Friday and broadcast live on state radio.
In his first Friday sermon since the controversial vote, Rafsanjani criticized the way authorities in Iran had handled the poll and said large numbers of Iranians doubted the results of the election.
"In the current situation it is not necessary for us to have a number of people in prisons...we should allow them to return to their families," he said in the sermon at Tehran University, broadcast live on state radio.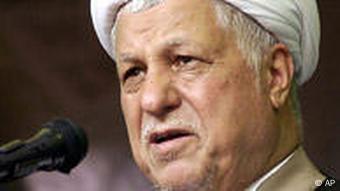 Rafsanjani is considered a key power-broker in Iranian politics
"We are all members of a family. I hope with this sermon we can pass through this period of hardships that can be called a crisis," Rafsanjani said.
Large opposition rally in Tehran
His sermon was marked by a large opposition rally in the streets outside the university - the first such demonstration for more than a week.
Many protestors were reported to be wearing green bands to indicate support for opposition leader and defeated election candidate Mir Hossein Mousavi.
News agency Reuters said some were heard chanting "death to the dictator" and "Ahmadinejad, resign, resign."
The agency also quoted an unidentified witness saying police had fired tear gas and beat up Mousavi supporters.
Rafsanjani is a backer of Mousavi who has demanded a re-run of the vote and described the new government as illegitimate.
Cleric slams security crackdown
Rafsanjani, who heads the powerful Assembly of Experts and is an influential cleric, also appealed for an open debate on radio and television about the disputed 12 June election and called for media restrictions to be eased.
"It is not necessary to pressure media. We should allow them to work freely within the law," he said.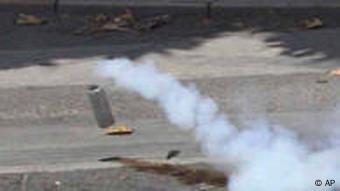 A protestor at the opposition rally in Tehran on Friday
Although Rafsanjani stayed silent during the unrest that followed the election, members of his family - including his daughter Faezeh - openly supported Mousavi.
Rafsanjani, who was a close aide to Iran's late revolutionary founder Ayatollah Ruhollah Khomeini, also condemned the security crackdown on demonstrators.
"We knew what Imam Khomeini wanted. He didn't want the use of terror or arms, even in fights (for the revolution)."
Rafsanjani's remarks are seen as a challenge to Supreme Leader Ayatollah Ali Khamenei, who has upheld the election result and accused foreign powers of fuelling the unrest.
Violent street protests broke out in Iran last month, as news of President Mahmoud Ahmadinejad's victory was met with accusations of fraud and vote-rigging.
At least 20 people have died and hundreds have been arrested in the unrest.
sp/Reuters/AP/dpa
Editor: Neil King