President Yahya Jammeh is running for a fifth term in office with his ruling Alliance for Patriotic Reorientation and Construction (APRC), with about 880,000 Gambians eligible to vote when more than 1,400 polling stations opened at 0800 UTC.
The winner will serve a five-year term in the country of 1.9 million people, surrounded by Senegal and a small Atlantic coastline.
Opposition led by Barrow
Jammeh faces political newcomer and businessman Adama Barrow, chosen by seven Gambian political parties and an independent candidate. A third candidate, former ruling party MP Mama Kandeh, is also standing for the Gambian Democratic Congress (GDC).
Barrow was chosen after several leaders with the opposition United Democratic Party (UDC) were jailed in July for holding peaceful protests, one of which was organised to protest the death of a party member while in custody.
At his final rally on Tuesday night, Jammeh said he was looking forward to ramping up development in a country that "will move faster than it has in 22 years," but he also warned that protests over Thursday's result would not be tolerated.
The rights group Amnesty International has urged the authorities to ensure that the elections, including the period following the results, are held in a climate free of violence.
Steve Cockburn, Amnesty's Deputy Regional Director for West and Central Africa, said the thousands of Gambians who have taken part in ralies for candidates over the last two weeks were a remarkable sign of how precious the right to freedom of expression is in a country where it has been so rarely permitted.
"It is crucial that these glimmers of freedom do not end after the votes are counted and this is no time for complacency," he added.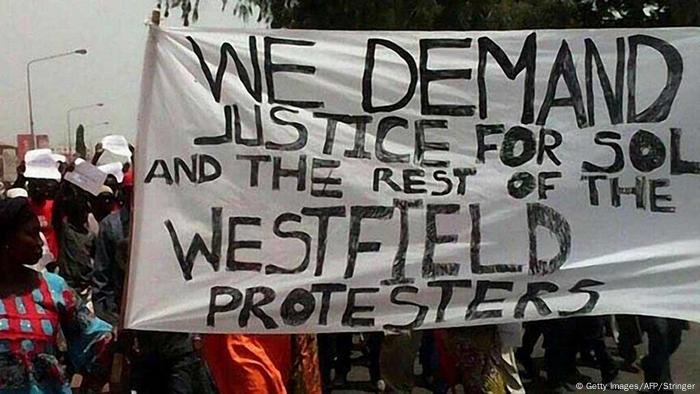 Protesters in April in Banjul following the death of an opposition figure, who died in custody after leading a protest for electoral reform and the resignation of Jammeh
A unique voting system
Gambia's unique voting system sees citizens vote by dropping a marble into a coloured drum for their candidate, with green, silver and purple ballot drums, which will be counted on the spot using wooden tablets.
Observers from the European Union and the West African regional bloc ECOWAS are not attending the vote, though the African Union will send a handful of monitors.
"Our election system is fraud-proof, rig-proof, you cannot rig our elections," Jammeh said. "There is no reason that anybody should demonstrate."
Jammeh seized power in a 1994 coup and has targeted opponents, including several of his own ministers, in recent years, while surviving multiple attempts to remove him from power.
The New York-based Human Rights Foundation said Jammeh's regime "has imprisoned, mistreated and even killed oppostion and pro-democracy activists for more than 20 years." It called on the Gambian government to release 19 jailed activists, including opposition leader Oussainou Darboe, whose arrest and conviction was "arbitrary, unlawful and in violation of Article 25 of the Gambian consitution."
jbh/ls (AFP, AP)