Indian police authorities have sacked two officers after an internal inquiry revealed they had faked their climb to the Mount Everest summit.
The police force in the western Indian city of Pune where the couple worked found that the two had altered photos to show that they had scaled the 8,848-meter (29,029 foot) Everest peak.
Read more : Mount Everest: All inclusive trek to the summit
"We found that they had given false information to media, cheated the Indian and Nepali governments and morphed photos to show that they had reached the top of Mount Everest - which, in fact, they had not," Pune's commissioner of police Sahebrao Patil said.
"We are not pressing any charges against them since we have already given very serious punishment in the matter," he added, saying they had brought the Pune police force into disrepute.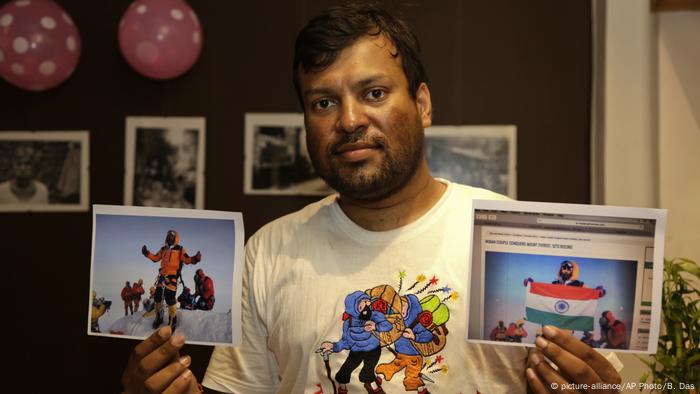 Indian climber Satyarup Sidhantha holds in his right hand a photograph that shows him on Mount Everest, along with the alleged doctored version.
Nepal's government last year imposed a 10-year mountaineering ban on Dinesh and Tarakeshwari Rathod after concluding that they had doctored photos to support their claim.
The country's tourism department initially certified the claims made by the Rathods. But it launched an investigation soon after fellow climbers pointed out inconsistencies in photos posted online.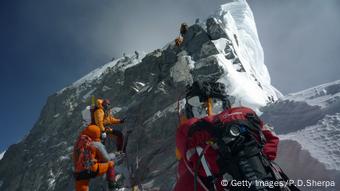 The incident prompted a review of the procedure for certifying ascents.
Commentators had pointed out that the duo was wearing different boots in the alleged summit pictures than at other points in the ascent, where changing footwear is practically impossible.
The incident prompted a review of the procedure for certifying ascents, which currently demands photos and reports from team leaders and government liaison officers stationed at the base camp.
ap/se (AFP, dpa)