Very little separated Dervis Eroglu and Mustafa Akinci in Sunday's first round of voting in Turkish Cypriot presidential elections, a full count showed Eroglu ahead with 28.2 percent of the votes cast, with Akinci at 26.9 percent.
Turkish Cypriots are electing the president that will lead peace talks with the Greek Cypriot government in southern Nicosia, seeking a permanent accord for the divided island.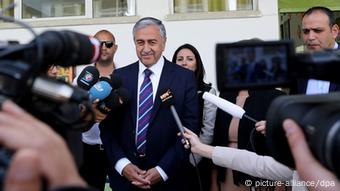 Mustafa Akinci will challenge Eroglu one-on-one next Sunday
"If we consider the fact that the negotiations will start soon, my wish is to see a president after this election who is able to voice the needs and represent the ideas and expectations of the Turkish Cypriot community," Eroglu, president of the self-declared Turkish Republic of Northern Cyprus - a political entity recognized only by the government in Ankara - said after casting his ballot.
Akinci's olive branch
Akinci, a former mayor of northern Nicosia, campaigned as an independent with an olive branch as his symbol.
"We are going to live in peace," he said after the count. "Past generations suffered a lot. People from both communities have shared suffering."
Turkish Cyprus accounts for roughly one-third of the island's land mass. Turkish troops moved into the region in 1974, responding to an Athens-engineered coup seeking a union with Greece. The TRNC unilaterally declared independence in 1983. Ankara provides the pariah government with roughly one-third of its budget.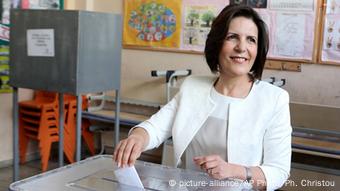 Sibel Siber, a former prime minister, was a comfortable third, but missed the cut for the runoff
Roughly 1,000 peacekeepers monitor the ceasefire line in Europe's last divided capital, Nicosia. Thus far, decades of talks, including a push spearheaded by former UN Secretary-General Kofi Annan, have failed to unify the island. Annan's plan was approved in the north but overwhelmingly rejected by Greek Cypriot voters at a 2004 referendum.
Sibel Siber falls short of runoff
Official figures showed that first round turnout stood at 62.3 percent on Sunday, from a pool of roughly 177,000 eligible voters. None of the seven candidates came anywhere near the 50 percent of the vote required for outright victory.
Third, behind Eroglu and Akinci, was the only female candidate in the race, Sibel Siber, the head of parliament and a former prime minister. She claimed 22.5 percent of the votes.
msh/bk (AFP, AP, dpa)