Forecasts early Tuesday showed that Hurricane Sally could approach major hurricane strength as it nears the US Gulf Coast.
The Miami-based National Hurricane Center said that Sally has recently strengthened and developed an inner core and the warm waters of the Gulf favor additional strengthening in the next couple of hours.
As of now, the Category 2 hurricane is packing 100-mph (155-kph) winds but forecasters said that sustained winds of approximately 110 mph (177 kph) are expected right before landfall on Tuesday .
Residents from the low-lying areas of Louisiana and Mississippi have been ordered to evacuate ahead of the hurricane, while President Donald Trump has issued emergency declarations for Alabama, Mississippi and Louisiana, which helps coordinate disaster relief.
Ports, schools and businesses closed along the coast. The US Coast Guard restricted travel on the lower Mississippi River from New Orleans to the Gulf, and closed the ports of Pascagoula and Gulfport, Mississippi, and Mobile, Alabama.
Alabama Governor Kay Ivey also declared an emergency, closing beaches and recommending evacuations from low-lying areas.
Projections for late Tuesday saw Sally slowly coming ashore near the Mississippi-Alabama state line. The mayor of the coastal city of Mobile in Alabama, Sandy Stimpson, warned residents to expect "a tremendous amount of flooding" as staff road-blocked vulnerable areas.
A maritime storm surge of more than one meter (over 3 feet) was forecast for Mobile by the National Hurricane Center.
Rainfalls of between 25 to 50 centimeters (10 to 20 inches) were forecast — extending inland northeast toward Atlanta, Georgia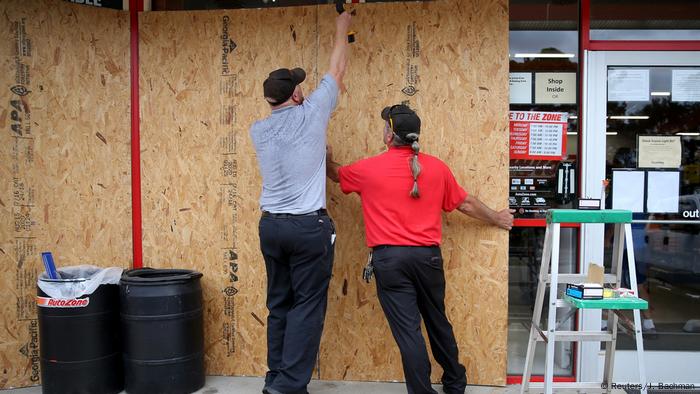 Businesses rushed to shut on Monday before the arrival of Hurricane Sally
Energy companies, ports and refineries hurried to shut down ahead of Sally, the second storm to threaten the region in less than a month.
In southwestern Louisiana, residents are still clearing the debris from Hurricane Laura and thousands of homes are without power. Sally's path continues to be east of the area.
Governor John Bel Edwards said on Monday that additional resources have been sent by the US Federal Emergency Management Agency, before Sally hits, to avoid taking assistance away from southwestern Louisiana.
Edwards advised over 12,000 Laura evacuees, who are currently in hotels in New Orleans, to "stay put" in their shelters.
Sally's biggest threat is that it will be a "rainmaker" across a wide swath of the Gulf Coast, with 3 to 4 inches in areas as far inland as Atlanta, said Jim Foerster, chief meteorologist at DTN, an energy, agriculture and weather data provider.
Sally is the 18th named storm in the Atlantic this year and will be the eighth tropical storm or hurricane to hit the United States, which is "very rare if not a record," according to Dan Kottlowski, senior meteorologist at AccuWeather.
Increased storm activity have been noted as one of the potential effects of climate catastrophe.
dvv, ipj/msh (AFP, AP, Reuters)