Hurricane Maria blasted through Puerto Rico on Wednesday as the strongest hurricane to hit the US territory in nearly 90 years, wreaking havoc across the island as it advanced.
Packing winds of 250 kilometers per hour (155 miles per hour), the Category 4 storm downed communication towers, damaged hundreds of homes and burst river banks as it released over 50 centimeters (20 inches) of rain, according to local media.
"When we are able to go outside, we are going to find our island destroyed," Abner Gomez, the director of the island's emergency management agency, was quoted as saying by El Nuevo Dia, a local newspaper. "It's a system that has destroyed everything in its path."
The paper also reported that electricity was out across the island of 3.4 million people. More than 4,400 people were in shelters by late Tuesday, the territory's Governor Ricardo Rossello said.
"We have not experienced an event of this magnitude in our modern history," he said. He nevertheless tried to reassure the population: "We are stronger than any hurricane. Together, we will rebuild."
Rossello asked US President Donald Trump to declare a disaster zone on the island, a move that would allow the territory to access federal emergency relief funds. Puerto Rico's government has struggled to restructure a portion of its $73 billion (61.5 billion euros) debt, and Wednesday's onslaught could plunge the island into deeper debt.
Trump has yet to respond to the request, but offered his support on Twitter: "Puerto Rico being hit hard by new monster Hurricane. Be careful, our hearts are with you- will be there to help!"
After lashing Puerto Rico, Hurricane Maria weakened to become a Category 2 storm, with wind speeds dropping to 175 kph and was expected to hit the northeastern coast of the Dominican Republic later on Wednesday and Thursday.
However, the Miami-based US National Hurricane Center warned that some strengthening was forecast in the coming days that Maria could regain major hurricane status by Thursday.
Dominica incommunicado
The storm's eye had passed over St. Croix in the Virgin Islands overnight, bringing hours of hurricane force winds. Hundreds of islanders left their homes and fled to shelters. The small island was also battered by Hurricane Irma just two weeks ago.
Maria also roared across Dominica earlier on Tuesday, causing widespread damage and knocking out virtually all communication towers.
Read more: Hurricane Maria rolls over Dominica
However, the head of the Caribbean Disaster and Emergency Management Agency, Ronald Jackson, said in an interview with Jamaican media that he had managed to get in contact with officials on the island via satellite phone, where he was told that at least seven people had died in the storm.
Speaking from New York on Tuesday, Dominica's Consul General Barbara Dailey said she had lost contact with the island at around 4 a.m. Eastern Time (0800 UTC). The latest news she had received from officials in Dominica was that around 70 percent of homes had lost their roofs, including her own.
"I lost everything," she told The Associated Press news agency. "As a Category 5 it would be naive not to expect any [injuries] but I don't know how many."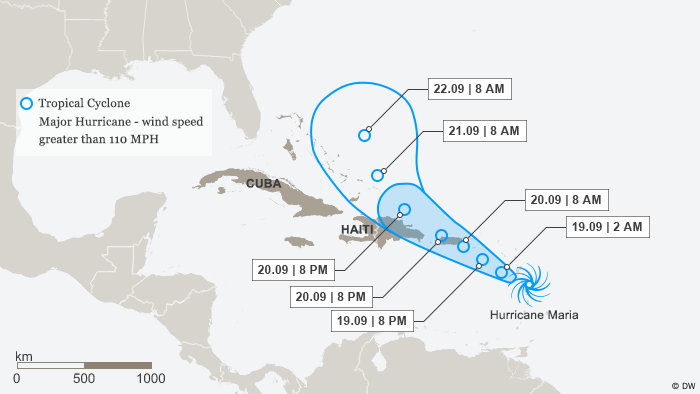 Dominica's internet service appeared to have gone completely offline by midday on Tuesday, according to Akamai Technologies, a company that tracks the status of the internet around the world.
The Ross University School of Medicine in Dominica also reported a widespread loss of communication and internet access, while relatives of students reported that they had lost all contact with their loved ones by Monday evening, as Hurricane Maria was bearing down on the island.
Prime Minister Roosevelt Skerrit sent out a number of dramatic Facebook posts on Monday night as Maria blew over the island before power was cut off.
"The winds are merciless! We shall survive by the grace of God," Skerrit posted, before describing how he could hear the sound of steel roofs being torn off houses, including his own. In his last message, he made an appeal for international aid, writing: "We will need help, my friends, we will need help of all kinds."
Read more: Caribbean recovers slowly as more storms threaten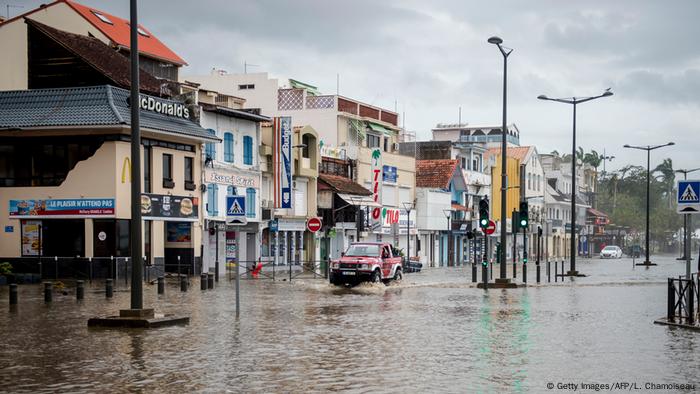 Although damage appeared minimal, both Martinique and Guadeloupe faced severe flooding in the wake of Hurricane Maria
Martinique and Guadeloupe: 40 percent of homes without power
North of Dominica, Hurricane Maria also hit the French islands of Martinique and Guadeloupe hard.
French Interior Minister Gerard Collomb said on Tuesday that at least 80,000 households in Guadeloupe and 70,000 in Martinique had been left without power - just under half of all homes across the two islands. However, it appeared the two French islands did not suffer heavy damage.
Maria claimed its first victim in Guadeloupe, where one person was killed and another two were reported missing. Three people were wounded in Martinique, including one seriously, according to Collomb.
The storm comes barely two weeks after Hurricane Irma pounded the Caribbean and Florida, killing around 60 people and leaving hundreds of thousands of people homeless.
dm,nm/rc (AP, AFP, Reuters)