With just 17 minutes played in the Bundesliga 2 game between MSV Duisburg and FC Ingolstadt on Saturday, the hosts had raced into an early 2-0 lead - or so they thought.
The second goal was incorrectly ruled out for offside and the game re-started with an Ingolstadt free-kick. But no-one had told Duisburg goalkeeper Mark Flekken who, having celebrated the goal, decided that it was safe to have a quick drink.
While walking back to retrieve his water bottle from inside his goal, he crucially turned his back on play and didn't see Ingolstadt re-start the game, Christian Träsch launching a long ball upfield from right-back.
Read more: Hertha Berlin halt Bayern Munich's winning run
Duisburg defender Gerrit Nauber tried to nod the ball back to his goalkeeper but, with Flekken pre-occupied, striker Stefan Kutschke was able to nick in and put the ball over the line to equalize. By the time Flekken noticed, it was too late.
'A horrible moment'
Yet the match had started so well for Flekken, who had spectacularly saved a penalty just moments before his own team took the lead.
There was further drama just before half-time when the visitors were reduced to ten men after Almog Cohen received straight red. In the second half, the Zebras put their numerical advantage to good use and eventually ran out 2-1 winners, moving up to fourth in the table and sparing Flekken's blushes.
"It was a horrible moment," he said at full-time. "I heard the goal music and thought we'd made it 2-0. So I turned around to have quick drink when the ball suddenly went past me into the net. The music had barely even stopped."
Although he ultimately got away with it, Flekken said he expects to get stick from his teammates for weeks to come - not that they had anything negative to say post-match.
"We can all laugh about it in the end because we still showed a really good mentality and won the match," said midfielder Lukas Fröde, while defender Nauber added: "I've got nothing bad to say about him because his penalty save a few minutes earlier was outstanding."
But the offending water bottle looks set to suffer a more violent fate.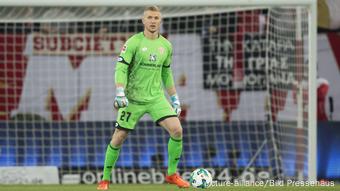 "I'm going to take the water bottle home and burn it in the garden somewhere!" said Flekken. "And I won't be putting water bottles inside my goal any more."
More goalie gaffes
Flekken's howler wasn't the first goalkeeping mishap in German football this season.
Back in November, Mainz 05 goalkeeper Robin Zentner took his eye off the ball after receiving a back-pass against Borussia Mönchengladbach. After taking an air shot, he recovered just in time to prevent Lars Stinl scoring.
Zentner later revealed that he had mistaken the penalty spot for the ball, as the latter rolled away behind him.
mf/mp (dpa, sid)