Police in Karlsruhe said the two aircraft, including a rescue helicopter, collided mid-air and fell onto open fields near a local recreational lake, Erlichsee, set among gravel extraction pits.
The German air rescue organization DRF said its helicopter had been on a training flight in the Speyer city area which lies north of the crash scene.
"Based on the current information, both pilots of the DRF Air Rescue as well as the two occupants of the light aircraft lost their lives," DRF said in an initial press release, adding it was wholly unclear what caused the collision.
Details scarce
"We are dealing with a large field of rubble," said a police spokesman in Karlsruhe, 35 kilometers (22 miles) to the south.
The other aircraft, a small recreational plane, was reportedly en route from Basel in Switzerland to Speyer.
The crash scene, which was sealed off, lies about five kilometers (around three miles) east of Philippsburg, a town of 13,000, and its adjacent Philippsburg nuclear plant.
Plant untouched
Initial reports suggested the nuclear plant was untouched.
The plant, on the banks of the river Rhine, has one active reactor which is due to be shut down in 2019.
It belongs to Energie Baden-Württemberg (EnBW), a publicly-traded concern, now focused on renewable energy capture, whose shares are largely in the hands of the southwestern state of Baden-Württemberg and its municipalities.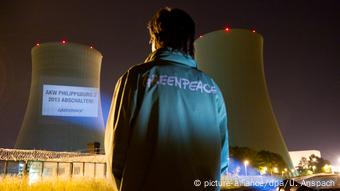 Campaigning for closure
German environmental groups, including Greenpeace, have long campaigned for the closure of Philippsburg II.
The plant's first reactor block, Philippsburg I, is currently being dismantled. It was closed down in 2011, the year of Japan's Fukushima disaster.
ipj/msh (AFP, dpa)