Italian prosecutors announced in June 2016 that they had arrested one of the kingpins of a vast human trafficking network across northern Africa. An undercover operation by Italian authorities, run with the help of the British Foreign Office and the UK's National Crime Agency, led to an Eritrean national being extradited from Sudan to Italy. This was the culmination of years of investigations, referred to as Operation Glauco, which mainly involved wiretapping telephone calls.
Read more: Follow the Money: What are the EU's Migration policy priorities?
However, a new documentary quoting several witnesses says the wanted man, Medhanie Yehdego Mered, is still at large and living in Uganda.
The wrong Eritrean man was detained in Sicily, it says. He is named in the film as Medhanie Tesfamariam Berhe, who fled Eritrea to avoid compulsory military service and had previously earned a living milking cows.
Despite numerous attempts on behalf of Berhe to assert a case of mistaken identity, Italian authorities insist they have the right man.
Swedish journalist Ali Fegan traveled to Kampala in March to investigate rumors that Mered was living there.
His film "Hunting the 'General'" was released recently. DW spoke to him about what he found when he went to look for Mered in Uganda.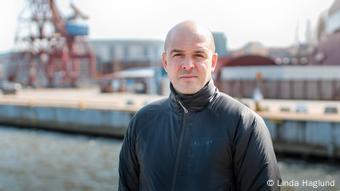 Swedish journalist, Ali Fegan
Deutsche Welle: Could you tell us what people in Kampala were saying about Mered? Did you personally see him?
Ali Fegan: We had a colleague, a Swedish journalist, who lived in Kampala for almost six months last autumn. He, together with some Eritrean friends, made some enquiries about the rumors that Mered was in Kampala. We got a lot of information, both from people who know Mered well, and even Mered's relatives, claiming that he was there.
So we decided to go there earlier in March to see some people who had information about Mered, and also to go to all these places where he has been seen — cafes and bars and also hotels, where he has been seen lately. We met a lot of people who confirmed that he's there — some people claimed that he's living there; some people claimed that he's not living there, but that he spends a lot of time there. Some people claimed that he lives outside Kampala. We actually didn't meet him. We went to one of the places where most people had seen him, a bar called Bar Molova in Kabalagala, which is the Eritrean area of Kampala.
We had been told that he is not the sole owner, but that he has invested some money in this place. When we went there — we filmed with a hidden camera — we were told by people there that he normally comes there and he was there only two days before. So we got a lot of credible statements from witnesses claiming that he is actually spending time, or living in, Kampala.
Mered has been described as having celebrity status in Uganda. Do you think this means that there is little chance that he will be arrested by the Ugandan authorities?
Well, yes, that is the description that we also got — that he is some kind of wild celebrity, living the high life there, spending a lot of money. And, of course, he earned a lot of money. People are afraid that he is paying off the police, that he's got good contacts with the authorities, that if they would go to the police and claim that he's there, that they wouldn't act on the information because they are paid off. I don't know if this is true or not. What I do know is that we have in our possession a recording which reveals that a European authority — I can't say which, because I need to protect my sources — but one large police authority in Europe had actually planned to go to Uganda to arrest him. The problem is the arrest warrants. The Italian prosecutor doesn't want to issue a new arrest warrant, since he's convinced that Mered has already been arrested in Italy. So the problem that this authority has is that they can't issue an arrest warrant on their own; they need the Italian prosecutor, a man named Ferrara, to do that. And he refuses.
So the Italian authorities do not want to admit that they have the wrong man, when even Mered's wife has publically said that the Italian authorities have made a mistake. What's the situation here?
Yes, that's the situation. The Italian authorities, and also the Swedish authorities, don't want to accept that they have made a mistake, that they have arrested the wrong man. The person who has been arrested is a refugee who was living in Khartoum. He was on his way to Europe.
The reason why they arrested him is because the Swedish police provided a Sudanese telephone number which they found when they were surveilling the real smuggler's wife, who is living in Sweden. So the reason for him being arrested is because the Swedes provided the Italians with this telephone number. So that's the background story. Now even within the European Union police authorities, there are voices being raised, saying that this mistake must be dealt with, we can't just keep going on like nothing happened. But Ferrara, who is the main Italian prosecutor in this case, doesn't want to accept that he has made a mistake.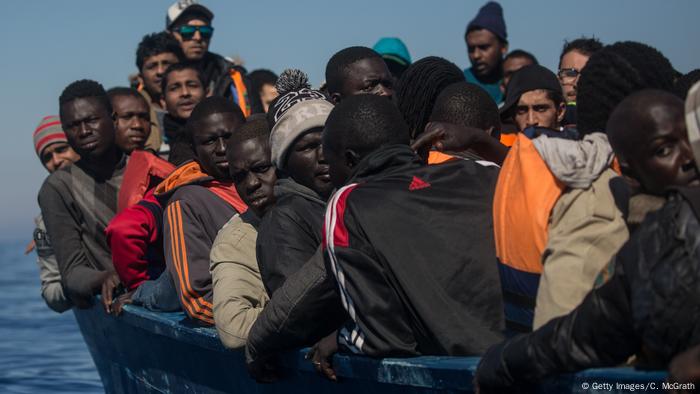 Thousands have drowned in the Mediterranean while trying to reach Europe
It seems that there have been some unlucky coincidences in terms of the evidence against an innocent man, Berhe. Could you please tell us about some of these?
The reason why he was involved in this case at all is because when he was in Khartoum, [before setting off] on his way to Europe as a refugee, he tried to contact a lot of girls on social media, on Facebook – Eritrean girls living in Sweden and elsewhere in Europe. He got in touch with Mered's wife, who lives in Sweden. Mered's wife has a lot of friends on Facebook, so she accepted his friend request and they had a chat. While this chat was going on, police were surveilling him. So since they have the same name, Medhanie, the Swedish police probably thought that this was the guy. The Facebook account was connected to a telephone number, which was this Sudanese number that the Swedish police provided to the Italians – which was the basis for the arrest. So, this is the background story of why he was arrested.
Since you investigated this story in your documentary – and your film is out now – have you been contacted by the Italian authorities, or even by the European authorities, about whether they actually got the wrong person, since you say you found the right person in Kampala?
Actually, in the film I did an interview with the prosecutor in Italy who is responsible: Ferrara. He agreed to do an interview with us, but when we met, he said, "I cannot comment on the case of Medhanie, because it's so controversial."
I ignored that and asked him, "Isn't there a chance that you've made a mistake here?" And he went completely crazy and started yelling at us and threw us out of his office. This is all in the documentary. And this reaction, I think, speaks for itself. He knows that there is something he needs to hide.
Why do you think that the Italian authorities would want to hide information like this?
This is one of the biggest European police investigations and cooperations. Many, many countries were involved: UK, Germany, Sweden, Holland, Italy…
So as a result of that, they just don't want to admit the fact that they bungled this?
Exactly. I mean, how could they, two years later, say, "Sorry guys, we made a mistake, this guy is innocent. We have to let him go." How would that look? When they claimed they'd got Mered, they presented it as the arrest of the year. It was presented as a triumph in the fight against human trafficking. This was Europe's answer to all the people dying in the Mediterranean. And now they just made a mistake, got the wrong guy, got an innocent guy? How can they say that?
Ali Fegan is a Swedish journalist who made the documentary, "Hunting the 'General.'" The interview was conducted by Abu-Bakarr Jalloh