Greenland's indigenous people now have the right to add humpbacks to a list of whales they are allowed to hunt, according to a decision made at the end of the International Whaling Commission's annual meeting in Agadir, Morocco on Friday.
They will now be allowed to kill and consume nine of the giant mammals each year through 2012. They were previously allowed to hunt 178 minke whales, 19 fin whales and two bowhead whales each year.
The number of fin whales will be reduced so that the total number of whales killed remains the same.
"Our rights will be violated if we can't get this resolution," said Ane Hansen, Greenland's fishing and hunting minister, during a tense plenary session before the decision. She added that scientists from the commission had determined that harvesting 10 whales every year for a decade would not adversely affect humpback populations.
Approved without a vote
International Whaling Commission (IWC) delegates said there was consensus on the issue and the 88 member countries did not hold a vote on it. Some countries, including Japan, had said that denying the humpback extension - or even taking it to a vote - would damage the organization.
Several members were, however, resistant to the idea of allowing the humpback whale hunt.
"This population is not exactly starving. They enjoy one of the highest average household incomes in the world," said Frederic Briand, Monaco's negotiator, adding that more than 3,000 small cetaceans - including whales, dolphins and porpoises - are caught every year in Greenland's waters to feed the population of 55,000.
Some environmental groups argued that the whale meat doesn't just feed the native people but also ends up in supermarkets and restaurants.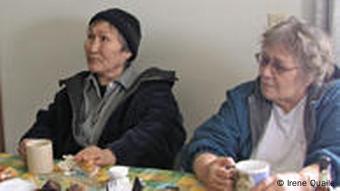 Some native groups are allowed a limited number of kills a year
"Whale meat is sold even in Copenhagen with the justification that Greenlanders live there," said biologist Petra Deimar, a member of the IWC scientific committee.
While Greenland is a self-ruled territory of Denmark, it is not a member of the European Union. The EU supported the extension for Greenland after reaching a deal with Denmark reducing the total number of whales.
Moratorium sticks for now
Indigenous groups from several countries are exempt from a 1986 moratorium on commercial whaling.
The ban itself was up for discussion at the IWC meeting but talks over ending it collapsed. Debate had centered on Iceland, Japan and Norway, which continue whaling, reducing the total number of whales they hunt each year.
The proposal would have allowed those three rogue countries a small annual commercial hunt.
Japan says it hunts whales for scientific purposes, while Norway and Iceland claim special rights exempt them. Together the three countries killed more than 1,500 whales in the 2008-2009 season.
A decision on the proposal will now be postponed until next year.
Author: Holly Fox (AFP/AP/dpa)
Editor: Kyle James