The winner of 14 major golf titles and still the 17th best-paid athlete in the world pleaded guilty in a Florida court on Friday to reckless driving.
Woods is to spend one year on probation, pay a $250 (€215) fine, perform 50 hours of community service, and complete a course the dangers of drunk driving among other conditions, said Dave Aronberg, the state attorney for Palm Beach County.
The 41-year-old Woods spoke only briefly, answering the judge's questions about his plea agreement.
"This particular plea agreement has no jail time on it," Judge Sandra Bosso-Pardo told Woods. "However, if you violate your probation in any significant way, I could revoke your probation and then I could sentence you to jail for 90 days with a fine of up to $500, is that understood?" Woods nodded in response. He will also be required to undergo regular drug tests and is not allowed to drink alcohol.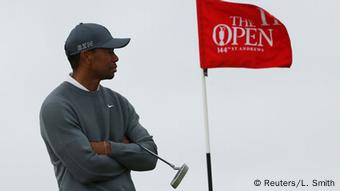 Woods at the Open in 2015
Asleep at the wheel
Woods had been found by police asleep in his Mercedes-Benz car at 2 a.m. on May 29 at the side of the road 15 miles (24 kilometers) from his home. While there was damage to the driver's side of the car it was unclear how it had been caused.
Medical examination at the time showed he had the active ingredient of marijuana, painkillers Vicodin and Dilaudid, the sleep drug Ambien and the anti-anxiety drug Xanax in his system but no alcohol, according to a toxicology report released in August.
Hitting a tree in 2009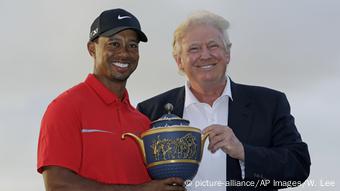 Woods was presented with the Gene Serazen Cup in 2013
Woods was last arrested at Thanksgiving weekend in 2009, when he drove his SUV into a tree and a fire hydrant outside his home in Windermere, Florida. Revelations that he had had multiple extramarital affairs followed and he and his wife Elin Nordegren, the mother of his two children, later divorced. He was treated for an addiction during 45 days in a Mississippi clinic.
The former champion has not competed in a golf tournament since February because of a back injury. He said his back is improving.
Woods is still listed as the 17th best-paid athlete in 2017 with $37 million, almost exclusively from endorsements.
jm/sms (AP, AFP)