Goldman Sachs said Thursday that it had reached a tentative $5.1 billion (4.7 billion euros) deal with US and state authorities to settle allegations related to fraudulent marketing of mortgage bonds before the financial crisis.
The Wall Street investment bank said it would pay a civil penalty of $2.4 billion to settle with the authorities, as well as payments of $875 million and $1.8 billion in consumer relief.
It is the largest penalty to be paid by Goldman related to the 2008 financial crisis, but it is considerably smaller than fines paid out by other banks. Bank of America has paid out tens of billions of dollars in fines as a result of its role in the housing crisis. JPMorgan reached a settlement with the government and paid out $13 billion.
Goldman reached the "in principle" agreement with the Department of Justice's Financial Fraud Enforcement Task Force, which has been investigating fraud by banks in marketing residential mortgage-backed securities (RMBS), the financial assets that were at the heart of the 2007-2008 meltdown of the US financial sector.
The settlement related to Goldman's securitization, underwriting and sale of RMBS from 2005 to 2007, it said.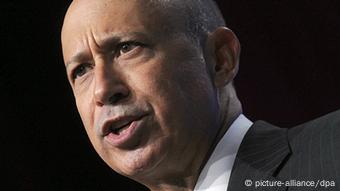 Goldman Sachs CEO Lloyd Blankfein.
The agreement will resolve civil claims on the issue with the Justice Department, the National Credit Union Administration, which represents some financial institutions that failed after their RMBS investments soured, and Federal Home Loan Banks in Chicago and Seattle. Also in the settlement are the state attorneys general of Illinois and New York, according to the bank.
"We are pleased to have reached an agreement in principle to resolve these matters," Goldman chairman and chief executive Lloyd Blankfein said in a statement.
Goldman said the settlement will reduce after-tax earnings for the fourth quarter of 2015 by about $1.5 billion. Goldman shares fell 9 cents to $161.30 in aftermarket trading.
The Justice Department declined to comment on the deal. A spokesman for the National Credit Union Administration would only confirm they are involved in the agreement but offered no details.
Goldman is just one of many major banks fined billions of dollars for selling RMBS and other housing market-linked securities as safe investments when the underlying assets were of low quality and highly risky.
Investors in them, including banks and credit unions, suffered heavy losses, with many forced to close, when the value of the securities plummeted with the collapse of the housing market.
In 2014, Goldman agreed to pay $3.2 billion to resolve claims it misled the huge government-backed housing finance companies Fannie Mae and Freddie Mac on mortgage-linked securities it sold them.
And in 2013 a former Goldman trader, Fabrice Tourre, was convicted on charges of misleading investors on mortgage-linked securities that turned out to be high-risk.
bik/sms (AFP, AP, Reuters)