At a packed temporary stadium with a samba band, dancers and swirling wind, German destroyer Walkenhorst was devastating with the spike late Wednesday as the visitors took control of the first set.
She smashed yet another into the sand to go four points ahead with Ludwig converting on the first try as Germany won 21-18 in the final's first set.
In the second set, Germany raced to an 11-5 lead and then set up match points when the imposing Walkenhorst successfully jousted at the net.
Brazilian Barbara Seixas, under severe pressure, put her serve straight out, prompting a scream of delight from the celebrating German pair, who took the second set 21-14.
"The more pressure we had, the better we played," Walkenhorst said after the game.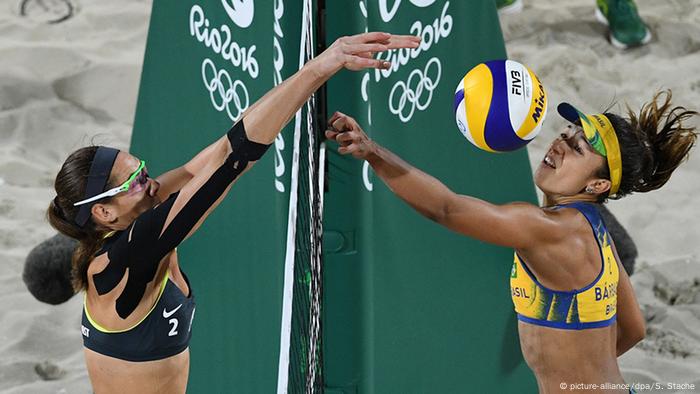 Walkenhorst (L) won the day over Seixas at the net
The win comes four years after the German men claimed the country's first Olympic beach volleyball title.
Seixas and partner Agatha Bednarczuk, Brazil's reigning world champions, were left with a well-earned silver medal.
Americans Kerri Walsh Jennings and April Ross won bronze.
jar/tj (AFP, AP, tj)