Michael Osei Appiah said he first heard it on the radio, the message "Go Organic." As the manager of organic produce on a papaya farm Ghana, it is also his daily directive. Appiah explained that the slogan of M.G. Farm's organic operation, spanning 27 acres and growing, is "Be sure of what you eat."
All of the organic papaya grown at M.G. Farms are intended for export, which are sold at a 20- percent premium. One of the most important things Appiah has learned is how to pick out the export papaya. The pristine oval shape, even coloring and smooth skin are some essential characteristics. Papaya that do not have such qualities are given to local women to sell at the market where their organic origins are un-noted.
Interest in organic and sustainable products is growing in Ghana. In 2015 the government launched its own "Ghana Green Label" certification, a national scheme that reassures consumers of the safety and environmental sustainability of fruits and vegetables. However there is no national standard for organic certification. Much of the nascent organic industry is reliant on international networks and demand.
International partnerships were crucial for the organic transition at M.G. Farms. Agro Eco Louis Bolk Institute helped with the certification process and finding buyers in Europe. There are many organizations at work throughout Africa helping local producers take advantage of the higher value chains in organic agriculture.
Food security in focus
In Germany, the Federal Ministry for Economic Cooperation (BMZ) gives primacy to sustainable agriculture and food security in its Africa development policy. A 2008 United Nations report on food security in Africa illustrates that conventional agriculture is not the only way to help farmers move beyond subsistence. Organic agriculture can play a big role. Accordingly, the German Association for International Cooperation (GIZ), which turns development policy imperatives from the BMZ into practice, is aware of how organic agriculture can help meet sustainability goals.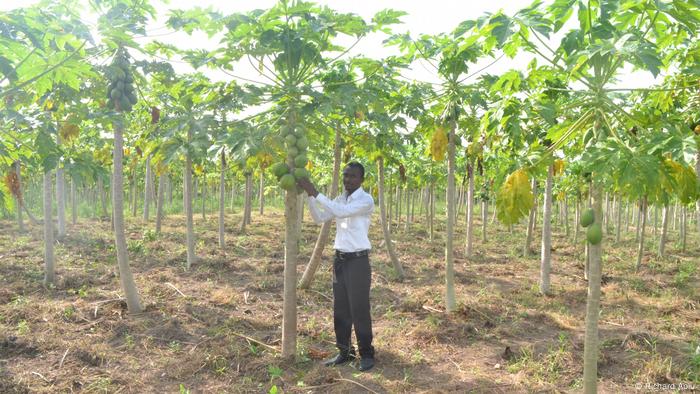 Michael Osei Appiah from M.G. Farms in Ghana has contributed to people being sure of what they eat
Mareike Hahr works on agricultural trade and value chains at the GIZ. "In developing countries the potential for organic agriculture is far from being exhausted," she said. "There do not really exist organic markets, a policy or political framework that would force the development of the organic sector in those countries."
On the ground, the GIZ supports sustainable agricultural development in Africa on different levels, from training farmers to promoting organic value chains and supports programs throughout the continent. Recently Mareike Hahr was working on a private public partnership with German retailers who wanted to source dried organic mango. They found smallholder farmers in Mali to partner with.
Common standards sought
Worldwide, the organic market is 75 billion euros ($80.8 billion) a year and growing fast. In 2015, the European organic market increased by 13 percent to almost 30 billion euros. But tapping unseen market potential is a multistep process. For organic producers in Africa, proposed legislation may change how they can access the European market.
The European Commission wants to change how imports are considered organic. Instead of having certifying bodies in countries like Ghana proving that their requirements for organic certification are equivalent to European ones, a new proposal suggests that all standards must be the same.
Markus Arbenz, the executive director of IFOAM International, said that there was a fear that this would hamper the ability of small-scale producers in third countries to get certified. "The bill eventually gets passed down the producer; all the bureaucratic burdens by the importing country eventually end up on the table of the one that exports," said Markus Arbenz.
Michael Appiah thinks that the complexity of organic certification keeps more people from going organic. "Some don't have the patience," he said. While Appiah explains that M.G. Farms converted to organic farming out of a desire to have a better environment and to preserve the soil, it is international demand that drives their organic expansion.
The interest in M.G. Farm's organic papaya at Biofach, the world's largest international organic food trade fair, earlier this year convinced Michael Appiah and his managing director to convert more acres to organic as fast as possible.
"More people are encouraged to live an organic life everywhere" said Michael Appiah. "[It's] a major concern of the whole world."