The interior ministers of the nation's 16 states as well as federal Interior Minister Wolfgang Schäuble "consider Scientology to be an organization that is not compatible with the constitution," Berlin Interior Minister Erhart Körting told reporters after a two-day meeting of the officials, on Friday, Dec. 7.
Körting said Germany's domestic intelligence agencies would collect material that could possibly serve as the basis for a ban of the sect. Federal Interior Minister Schäuble said there was not yet enough information to justify a ban.
Germany does not recognize Scientology as a religion but sees it as a money-making venture. The German authorities have viewed Scientology with suspicion for years. The group, which opened a center in Berlin in January, has around 6,000 followers in Germany.

No money for extreme right-wing


The ministers also decided to prevent organizations close to the far-right NPD party from gaining or retaining non-profit status or receiving state subsidies.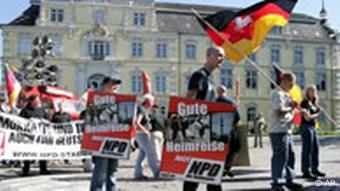 The NPD has avoided being banned so far
"We're going to the place that it hurts them the most," said Schleswig-Holstein's interior minister, Ralf Stegner.
Currently there aren't any such groups that get money from the state. Due to the NPD's presence in several regional parliaments, however, foundations associated with the party would theoretically have the right to apply for subsidies.
Germany has been debating whether to ban the NPD for years, but so far every attempt has failed to establish that the party violates the country's constitution.