"May I give you a leaflet about myself, about the upcoming election?" Karamba Diaby is a tall lanky guy, campaigning in downtown Halle trying to win over passersbys for the vote on September 22.
He's shaking hands with people coming and going, trying to get them involved in at least a brief conversation. Diaby also goes door to door to talk to people about election issues.
The Social Democrat (SPD) is running for parliament and describes his style of campaigning as similar to that found in the US. He hopes to be able reach out to people directly and wants to speak the language of the citizens, and to listen to them. He's hoping to be the first delegate of African origin to make it into the Bundestag, Germany's federal parliament.
International attention
Given that the Senegalese-born man could become Germany's first black MP, there's ever mounting interest in his story. The New York Times, the BBC and a number of European media have contacted him.
The Halle region is not one where immigrants have been welcomed with open arms; it has reputation of having a lot of supporters of right-wing parties. But for Diaby that's not an issue - he plays down fears that he may need protection while walking through "dangerous" areas of town at night.
It seems like he doesn't want to hear a bad word about Halle, but he does know first-hand that there are problems between Germans and immigrants here. He was the victim of a racist attack once himself. That didn't matter, he says, adding that there are enough people who had the courage to stand up to xenophobia and racism.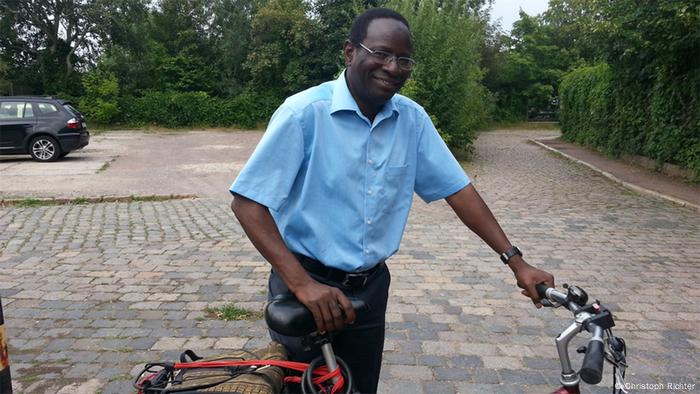 On the campaign trail, Diaby is always on his bike
From Senegal to East Germany
Karamba Diaby left Senegal in 1986 when he received the opportunity to study chemistry in East Germany. "Of course I didn't know a word of German back then, all I could say was BMW and Bundesliga. But those were words they didn't like to hear in communist East Germany." The socialist way of life was very different from back home in Senegal.
When the Wall came down, he stayed in Germany and in 2001 became a citizen of his new home country. He's always taken civic duty seriously and tries to engage normal citizens in his campaigning. His chances at making it into parliament are quite good; his main focus on education, integration, minimum wage and social justice problems correspond well with the concerns of the local electorate.
His constituency is between Leipzig, Wolfen and Bitterfeld, an industrial region that had next to no environmental standards during GDR times. In the 1980s, most rivers and lakes were so contaminated that life was no longer possible. Even when the sun was out, it still was foggy and grey due to air due to air pollution. This has all changed since the fall of the Iron Curtain, and many of the chemical plants have been closed down or modernized. This, however, also meant the loss of tens of thousands of jobs.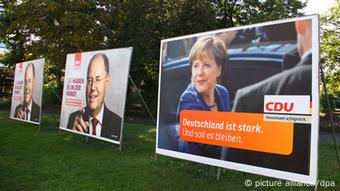 Rather than putting up posters, Diaby wants to meet the voters face to face
On the side of the people
While many other politicians hurry from one campaign event to the next in black limousines, Karama Diaby takes his bicycle - locally produced by a company in Saxony. It's part of the reason why people see him as one of them.
For many, he stands for hope, especially for giving a voice to eastern Germans. "And that as and African," Diaby laughs. He's a good listener and doesn't just give smart advice, explains Stefan Will, who works on Diaby's campaign team. "He approaches people without prejudice, without fear. I think you have to see his immigrant background as an asset," Will says. "But he is straightforward about it and won't be reduced to that."
Diaby understands the hardships his fellow citizens face. His mother in law lost her job after reunification. "She was a brave woman and raised two kids. She said 'I won't stay home.' She got retrained and became a carer for disabled. She was 50 when she moved to another part of the country. But when she was 57, she'd had enough. She was utterly spent and exhausted. Two years later she died."
Diaby works in the ministry for social affairs. He's concerned about the mood of stagnation that permeates society, in particular the passivity of people who don't think they can do anything about their respective situations. "I think the people have to really think hard about themselves. They can't always just criticize: in the end it's all up to them."