When the "Deutsche Presse Agentur" was founded on August 18th, 1949, most of Germany still lay in ruins.
The scars of World War II were plain enough to see in cities and towns across the country – but 13 years of National Socialism had also devastated Germany's media landscape. One of the first priorities for the nascent German Federal Republic was to support the establishment of independent media.
The German Press Agency benefitted from this, growing out of the three press services run in the western allied zones of occupation, and helped initially by allied press officers.
Back then, international stories were flown by airmail delivery.
Today, the Hamburg-based company is Germany's biggest news agency, and its reporters can be expected to upload stories just seconds ahead of their rivals via the internet.
Dpa employs some 1,200 people world-wide - 450 of them reporters in Germany's 50 nation-wide bureaus. The company is currently undergoing a restructuring process, which will see 200 of its reporters moved from Hamburg and Frankfurt to a new headquarters in Berlin by 2010.
The agency's structure still reflects its dedication to independence: set up as a cooperative, none of its 190 media associates is allowed to own more than 1.5 percent of the company.
Until 1960, the agency benefitted from German industry subsidies, but since then it has had to stand on its own feet. Over the course of the years it has developed four main language services, supplying copy in German, English, Spanish and Arabic, and recently launched a Turkish service aimed at drawing stories from Germany's large Turkish community.
On the world stage, dpa has also become a major player. It has a presence in 100 countries and is the fourth biggest international news agency, behind its American, British and French rivals: Associated Press, Reuters and the still-subsidised Agence France Presse.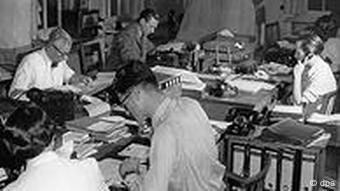 Changing technology has had a major impact on the news business
Changing landscape
But international competition isn't the only pressure facing the company today. With newspapers yet to come to grips with a business model that can prosper in the age of the internet, news agencies are finding that some of their biggest customers are increasingly unable to afford their services.
Dpa encountered this in its domestic market with the loss of the WAZ newspaper group. When WAZ mediengruppe – one of Germany's leading publishers – decided recently to cancel its subscription to dpa, it cost the agency some three million euros in foregone earnings.
A loss the company's boss, Wilm Herlyn, tried to brush off in an interview with the German public broadcaster ARD.

"Of course we follow the pages of the WAZ group very closely," Wilm Herlyn said. "And we've noticed that they sometimes lack this or that story because they don't have dpa."
Yet the loss of big-name accounts is a blow to the agency, not least because of the impact on its subscription model.
The price dpa charges media outlets for access to copy, pictures, and footage is tied to the outlet's circulation. In the past, this has helped smaller newspapers compete with larger ones, encouraging more media diversity.
But this model is coming under growing strain as large German papers appear increasingly willing to try a go-it-alone strategy.
nw/dpa/ARD
Editor: Trinity Hartman