Merkel said that while she could make only a "brief assessment," Bush's remarks were an "important step on the road" to the G8 summit next week in the northern German resort of Heiligendamm.

"What is positive is that we can see from the speech given by President Bush today that no one can get past climate change," Merkel said. "It is there. It is also essentially caused by humankind."

"That is the shared basis on which we are now acting," Merkel said, although she acknowledged much work had to be done.

The German chancellor also stressed that it was "very important to bring the UN into the process.

"But I do see movement on the whole question," she said.

The United States signed the 1997 UN-backed Kyoto Protocol to limit the emission of greenhouse gases -- one of the major causes of global warming -- but never ratified the treaty.

A new framework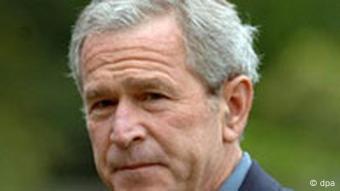 Bush kept quiet on details of the plan
In a speech in Washington setting out his agenda for the G8 summit, Bush said the United States "will work with other nations to establish a new framework on greenhouse gas emissions for when the Kyoto Protocol expires in 2012."

He gave, however, few details and made no mention of mandatory cuts in greenhouse gas emissions such as those contained in the Kyoto Protocol.

Under the US proposal, nations would also develop "mid-term national targets and programs that reflect their own mix of energy sources and future energy needs," Bush said.

The US has argued that it favors using technology to fight global warming rather than imposing emissions limits which could hamper economic growth.

Limiting emissions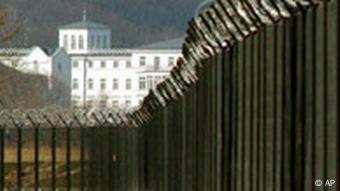 Will G8 leaders reach agreement behind the fence?
Merkel, on the other hand, has staked Germany's 12-month G8 presidency on hammering out a binding agreement between the leading industrial powers on limiting the emission of greenhouse gases.

The prospects of that happening at the G8 summit in Heiligendamm on the Baltic coast appear increasingly slim, with clear differences appearing between G8 nations on how to limit greenhouse gases.

Washington has strong objections to the proposed global warming declaration prepared by Germany for the summit, according to leaked documents.

British Prime Minister Tony Blair, however, called Bush's announcement tackling climate change a "big step forward.

"This is what we have been working for," Blair said. "Obviously it's a big step forward and it sets the right framework for next week's meeting."

The G8 summit will be attended by the leaders of Britain, Canada, France, Germany, Italy, Japan, Russia and the United States.

Research and development

The US president said he would push G8 leaders to boost investment in research and development of environment-friendly technologies, and would help poor countries acquire such cutting-edge science.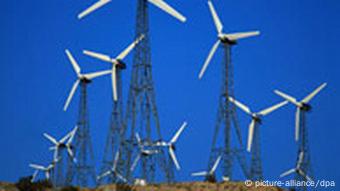 Bush banks on clean energy technologies
"We're also going to work to conclude talks with other nations on eliminating tariffs and other barriers to clean energy technologies and services by the end of this year," he said.

"We'll help the world's poorest nations reduce emissions by giving them government-developed technologies at low cost or in some case no cost at all," said the US president.

Amid early media reports of Bush's plan, Greenpeace spokesman Jörg Feddern criticized the proposal as an attempt to undermine the United Nations' Kyoto process with its mandatory restrictions on greenhouse gas emissions.

"This is fatal for climate protection," Feddern told AFP.

The role of emerging economies

Under the Kyoto Procotol, 35 industrialized nations that have signed and ratified the pact are required to make targeted cuts in emissions of greenhouse gases, including carbon dioxide (CO2).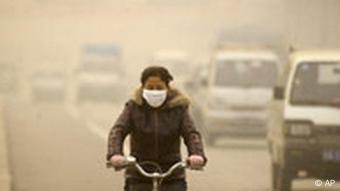 China so far fails to accept binding targets
China and India's status as developing nations exempts them from mandatory targets on greenhouse gas output, though they are fast becoming big emitters of greenhouse gases as they burn oil, gas and coal to power their economies.

The US administration has cited this as a reason for not submitting the Protocol for ratification by the Senate.

This week China and India both signaled that they were not ready to accept binding targets on cutting emissions in the post-Kyoto era either.