Germany will send a sixth nuclear-capable submarine to Israel and will subsidize the cost, German Defense Minister Thomas de Maiziere announced on Tuesday after meeting his Israeli counterpart Ehud Barak in Berlin.
The sale comes after years of negotiations that Israeli media reported were stalled due to tensions over Israel's continued construction of Jewish settlements in the occupied Palestinian territories. Berlin reportedly agreed to the sale after Israel released millions of dollars in withheld customs duties to the Palestinian Authority last year.
Three German-made Dolphin-class submarines are already in use in the Israeli navy, delivered in 1999 and 2000. Two other submarines have been ordered and are under construction, slated for delivery later this year.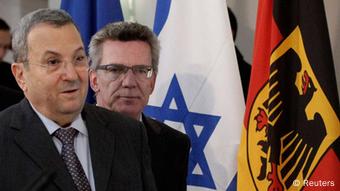 De Maiziere, right, did not specify how much Germany would subsidize the submarine
De Maiziere confirmed that Germany would subsidize the cost of the sixth submarine but declined to give details on how much. Sources in Berlin said last November that a third of the cost would be covered, totaling a maximum of 135 billion euros ($178 million).
The Dolphin-class submarines run on a combination diesel and electric motor. Experts say the latest order from Israel is capable of carrying nuclear-capable, mid-range rockets, although this has not been confirmed.
Iran and the bomb
Meanwhile de Maiziere weighed in on Israel's consideration of military attacks on Iranian nuclear facilities, urging the Jewish state to exercise "rhetorical, factual and also military restraint" and warning that "military escalation would carry unforeseeable risks, for Israel, for the region and for others."
He added, however, that it appears "unambiguous" that Iran's nuclear ambitions have a military component, and that "tough negotiations and tough sanctions" are the best way forward. Iran says its nuclear program is for peaceful purposes only.
Barak said Iran has "shown a clear determination to defy and deceive the world and move closer to a military nuclear capability," and welcomed the European Union's latest round of sanctions, which include an import ban on Iranian oil.
acb/msh (AFP, dpa)