The German government is suspending payments to the Global Fund following allegations of corruption. The payments amount to 200 million euros ($274 million) a year.
"We have initiated a special enquiry and stopped all German payments into this fund until further notice, meaning that payments for 2011 have not been made yet," a spokesman for the German development ministry said.
Development Minister Dirk Niebel "is taking these allegations very seriously. We hope that the fund will move to provide clarity on these allegations," the spokesman told a government briefing.
Germany is the third largest contributor to the fund, behind the United States and France. Sweden has also suspended payments pending further investigation.
The UN-backed agency is the biggest single source of funding aimed at combating three of the world's greatest killer diseases. It has an overall budget of $21.7 billion drawn from 150 countries.
The Fund provides grants for selected projects in developing nations, allocating money provided by governments and private donors, including the Bill and Melinda Gates Foundation.
Refuting allegations
Recent media reports had said that billions of dollars may have been misappropriated from the fund and that controls to monitor the flow of funds were non-existent or inadequate.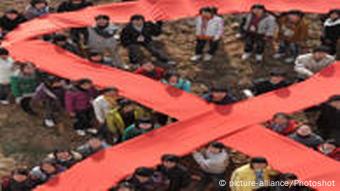 AIDS prevention campaigns are part of the Global Fund's remit
The Global Fund strongly rejected the allegations as "irresponsible, false and misleading."
The Fund said that following audits or investigations in 33 of the 145 countries where the fund has grants, it found $34 million in misappropriated or unsubstantiated funds.
While calling any fraud "unacceptable," it stressed that this amount represented 0.3 percent of the $13 billion disbursed to countries by the fund so far.
"The vast majority of Global Fund resources are delivering tremendous progress in the fight against AIDS, TB and malaria and saving millions of lives through the hard work of thousands of hard-working, honest health workers around the world," the statement added.
The German development ministry spokesman said it has invited a representative from the fund to Berlin for talks.
Author: Joanna Impey (AFP, AP)
Editor: Michael Lawton