Germany's trade unions unleashed powerful street protests recently, fighting what they say amounts to pension cutbacks for millions of people. They want to draw attention to the fates of people like Florian Blitzer -- a 42-year-old roofer who says even the current retirement age of 65 is virtually impossible to achieve.
"As a roofer you spend your entire working life standing or kneeling on sloping surfaces," Blitzer says. "This is bound to damage your knee and hip joints after a number of years making it impossible to work for so long."
However, under the new law, adopted by the Bundestag on Friday, everyone seeking retirement earlier than 67 will face a monthly pension cut of 0.3 percent.
Amelie Buntenbach, a trade union official, says the measure will not help to solve the pension funding crisis as a result of a rapidly aging population.
"There is enormous fear among people here that they will become dependent on welfare payments because they won't be able to work or find a job at that age," Buntenbach said. "They are afraid of having to use up all their savings before retirement, thus ending up in social hardship."
Not enough jobs to go around
In Germany so far, companies made use of generous state-funded early retirement schemes to shed millions of older staff. Less than half of all Germans aged 55 and 64, still work here compared with 70 percent in Sweden.
Critics of the new law say the government completely ignores the fact that there just aren't enough jobs around for people at 65, let alone 67.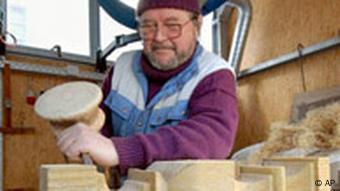 Older workers fear they may have to depend on government handouts
Kurt Beck, leader of the Social Democratic Party (SPD) which rules in a coalition with Chancellor Angela Merkel's Christian Democrats, says the government will make sure that such jobs will be created.
"We have started a new program to foster employment among older people," Beck said. "And secondly, the new law also allows people who have worked for 45 years to continue retiring at the age 65. Manual workers such as roofers and brick layers usually start their professional lives at 16, so they will have the chance to retire earlier."
By 2035, the share of people aged 65 and over in Germany is projected to swell to 30 percent of the total population from around 18 percent now.
New work model needed
Carl Martin Welcker, CEO of the Schütte Machine Tool maker, believes employers must also rethink their former staff policy. The imminent shortage of skilled labor will make it necessary to keep elderly workers employed, he says.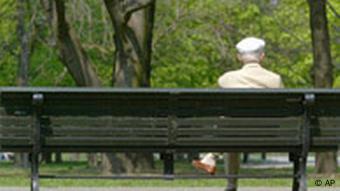 German workers will no longer be able to sit back and relax at 65
"We need to find ways to make working hours more flexible and seek individual solutions to keep workers employed as long as possible," Welcker said. "In my company, we've started this process and older employees say they feel happy and fit enough to be able to work until retirement."
The new retirement age is scheduled to be introduced in a gradual process starting in 2012 and ending in 2029.
The government has pledged to review the legislation over that period to see whether the labor market has really changed to take on more elderly employees.