German Chancellor Angela Merkel said she hoped for a rapid explanation into the fatal poisoning of Litvinenko, who became ill in London on Nov. 1 and died three weeks later.
Merkel said during the recording of the ARD television program Beckmann that she was "somewhat anxious" about the Litvinenko case, and called for Russian authorities to work closely with their British counterparts.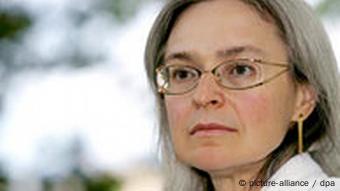 It is still unclear who ordered the contract killing of investigative journalist Anna Politkovskaya
Merkel said it was important for Russia's reputation to clear up the series of unexplained deaths of Russian journalists, politicians and business people.
"It isn't a good sign. It needs to change," Merkel said
Litvinenko was most recently investigating the murder of a fellow critic of the Putin government, Russian journalist Anna Politkovskaya, who was shot dead in Moscow in October.
The deputy head of Merkel's Christian Democrats in parliament, Wolfgang Bosbach, said it was "extremely disturbing" to have foreign powers operating in Germany.
Polonium trail leads from Moscow to Hamburg
German police announced on Sunday they had found traces of polonium 210, which was used to kill Litvinenko, in Hamburg. The rare radioactive substance was found in buildings visited by Russian businessman Dmitry Kovtun, who met with Litvinenko on the day he fell ill.
Investigators said Kovtun flew to Hamburg from Moscow on Oct. 28 and departed for London on Nov. 1.
Scientists continued on Monday to strip apart the BMW station wagon used to pick Kovtun up from the airport, as well as furniture and fittings in Kovtun's ex-wife's apartment, where he slept on a couch on his last night in Hamburg.
While police say it is possible that Kovtun was a poisoning victim who was releasing the polonium through perspiration, they have opened an inquiry on suspicion that he knowingly carried the toxic substance into Germany.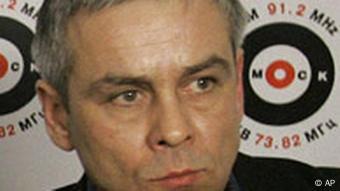 There are conflicting reports about the health of Dmitry Kovtun
Hamburg's leading public prosecutor, Martin Köhnke, complained about Russia's lack of cooperation. Köhnke said the Russians had failed to provide information about the health of Dmitry Kovtun, who is in hospital reportedly suffering from radiation poisoning.
"We are missing vital information," Köhnke said.
Russia's ambassador to Germany, Valdimir Kotenev, said on ARD television that Russian officials were cooperating with German officials. "We also have an interest in finding out the truth," he said.
On Monday, a police officer from London's Scotland Yard arrived in Hamburg to assist the German police inquiry. "He'll be our liaison officer as the inquiry continues," a Hamburg police spokesman said.
Meanwhile, according to a British tabloid, police in London have found new evidence pointing to the London hotel where Litvinenko met with Kovtun and another Russian, Andrei Lugovoy, as the place where Litvinenko was poisoned.
Citing police sources, the Daily Mirror said the bus Litvinenko took into central London on the day was not contaminated with radiation, whereas the hotel was.