A study carried out for the news magazine Der Spiegel showed that 44 per cent of those questioned saw the Tibetan spiritual and secular leader as a role model, while only 42 per cent attributed the same qualities to the pope.

The Dalai Lama enjoyed a particularly high popularity rating among the young and better educated, according to the survey by the TNS research organization.

Half of those questioned in these groups believed the Buddhist leader was able "to provide advice on how to live," according to the study, which showed that Germans found Buddhism a more sympathetic religion than Christianity or Islam.

Asked what they thought was the "most peaceful religion," 43 per cent opted for Buddhism, while 41 per cent chose Christianity. Only 1 per cent picked Islam.

Pope erases already negligent protestant support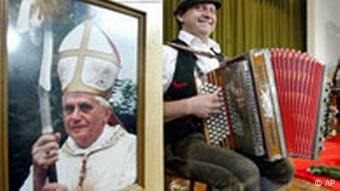 The pope can do no wrong in his home region
The Bavarian-born pope was criticized by German protestants this week for endorsing a Vatican document reaffirming the primacy of the Catholic Church and dismissing other Christian denominations as either "defective" or "not proper churches."

The Tibetan spiritual leader, who was awarded the Nobel peace prize in 1989 for his efforts to achieve a non-violent solution to the Tibetan problem, is due to pay a 10-day visit to Germany starting July 19.

During his stay, he will deliver a series of lectures and philosophical talks at the Hamburg tennis stadium and attend an international congress of Buddhist monks and nuns.