In December 2005, the German unemployment rate fell to 11.2 percent from 11.4 percent in November, according to seasonally adjusted figures released on Tuesday by the German central bank, the Bundesbank.
The Bundesbank -- the only institution to calculate the unemployment rate taking into account the effect of seasonal factors on raw economic figures -- said that 110,000 fewer people were unemployed in December than in November, bringing the total number of unemployed to 4.638 million.
Unadjusted raw data released earlier by the Federal Employment Agency showed that the number of unemployed people had risen by 75,000 in the last month of 2005 -- less than many analysts had expected.
The adjusted data is more closely watched by economists, but the unofficial figures are often cited in the heated debate in Germany about unemployment, one of the main weak spots in the economy.
The art of interpretation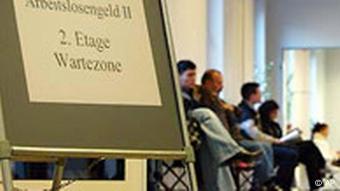 The government is already claiming improvements on the labor market
Social Democrat and Christian Democrat lawmakers from the German coalition government have been trying to put a positive spin on the latest job figures.
They point out that the 75,000 more jobless people in December 2005 are a major improvement compared with the same period in 2004, when unemployment figures rose more sharply in December due to a spell of cold weather and seasonally motivated layoffs.
Figure juggling is common practice whenever new jobless statistics are released. But this time around the German government is really confident that a turnaround on the job market can be achieved with the economic measures to be taken in the course of this year.
Berlin is poised to launch a 25-billion euro ($29.6 billion) investment program to fuel the domestic economy and boost consumer spending. It reckons that this shot in the arm will be strong enough to drag the country out of its lethargy.
Modest growth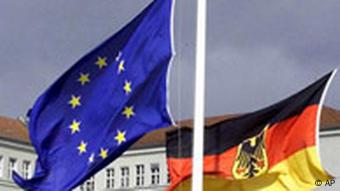 Within the EU, Germany has one of the lowest growth rates
The Berlin-based German Institute for Economic Research predicts a growth rate of 1.7 percent in 2006 -- a somewhat more optimistic view than that of other leading economic think tanks. Most analysts would agree, however, that even 1.7 percent is not enough.
"Even within the modest European framework, we are at the bottom of the rankings," said Alfred Stienherr of the German Institute for Economic Research. "Only Italy and Portugal will have less growth than Germany in 2006. And Europe is not a growth powerhouse."
Because of gains from a higher value-added tax due to come into force in 2007, Steinherr reckons that Germany might finally manage to stick to the EU's deficit criteria under which member countries are not allowed to borrow more than three percent of GDP annually.
Possible solutions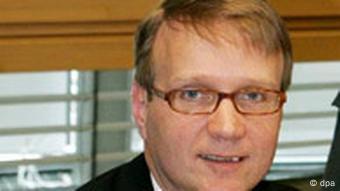 CDU Secretary General Ronald Pofalla
In her New Year's address to the German people, Chancellor Angela Merkel promised to make hiring people cheaper and more attractive to German businesses. Now the conservative chancellor has pledged to put money toward a plan aimed at giving wage subsidies to people who would otherwise be unlikely to ever find a job again.
"In our view, it is necessary to support especially long-term unemployed people with little or no qualification," Ronald Pofalla, secretary general of Merkel's CDU party said.
"Their prospects for a job would improve if the state paid part of their wages," he said.
The Social Democrats, however, are reluctant to share the optimism of their conservative coalition partners in government and are pushing for their own concept of minimum wages to create new jobs.
"It's important that we produce solutions for work that people can live on," said SPD secretary general Hubertus Heil.
"That's why we want a minimum wage to be introduced in the economy that enables all employees to make a decent living."
According to many economists, wage subsidies are better suited to achieve that and could create more than 2 million jobs for low and unskilled workers.
Skeptical voices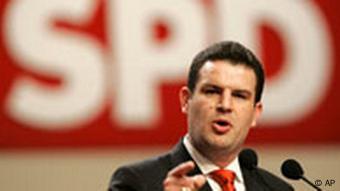 SPD Secretary General Hubertus Heil
Some analysts, however, believe that a subsidized low-wage sector is a bad idea for a deficit-ridden government.
"Such subsidies must then be paid not only to new employees but also to those who are already earning very small wages," said economist Rolf Peffekoven.
"This would then come to be extremely expensive for the state," he said.
Over the past decade or so, successive German governments have been unable to overcome chronic unemployment here, which reached a post-World War II record in March 2005, despite the fact that they've cut benefits for the jobless and forced them to take on nearly any job offered.
Many experts believe that perhaps the only way to deal with Germany's unemployment rate is robust economic growth above two percent, which Germany hasn't seen in years.