A train belonging to German rail operator Deutsche Bahn entered the Channel Tunnel that connects England with mainland Europe for the first time on Wednesday. The ICE3 train, built by the German company Siemens, threatens to rival the monopoly held by the French-built Eurostar train.
Since the trains still lack approval for the route between France and Britain, they were pulled by a locomotive. On board were staff from Deutsche Bahn and tunnel operator Eurotunnel plus a technical team, but no passengers.
End of an era?
The ICE train was the first passenger train not operated by Eurostar to use the tunnel, after EU rules required the tunnel be opened to competition.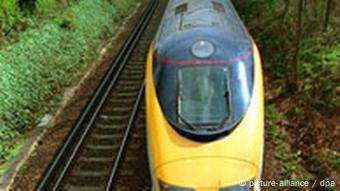 Eurostar trains have had a monopoly on the tunnel
France, which owns 55 percent of the cross-channel Eurostar service, has reacted angrily to the company decision last week to buy trains worth about 600 million euros ($836 million) from Siemens, rather than the French company Alstom.
Testing continues
The train went only part of the way through the tunnel before returning to France. A full trip to London is scheduled for next week.
Deutsche Bahn plans to offer passengers a high-speed connection with ICE trains through the tunnel under the English Channel by the end of 2013. About nine million passengers travel each year on the Eurotstar train routes that connect Brussels, London and Paris.
Author: Sarah Harman (afp/AP)
Editor: Rob Turner