German Britta Steffen stole the show as she broke the women's 100-meter freestyle world record in Budapest on the third day of the European swimming championships on Wednesday.
The 22-year-old engineering student from Schwedt timed 53.30 seconds to beat the old mark of 53.42 sec set by Australia's Lisbeth Lenton on January 31 this year in Melbourne.
She finished more than a second ahead of second-placed Dutch swimmer Marleen Veldhuis (54.32) and Greece's Nery-Madey Niangkouara (54.48), who took the silver and bronze medals as they had at the last European championships in 2004.
Disbelief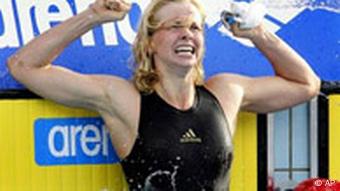 That world record-breaking feeling
Steffen could scarcely believe it when she saw her time on the electronic scoreboard, looking uncertain whether to laugh or cry before she pulled off her cap and gave a huge smile.
"I can't believe it. It's like when you lose and you can't believe it either," Steffen said. "I still can't believe I set a new world record."
Her previous best time was 54.29, a national record set in June at the German championships when she was relatively unknown on the international stage.
It was Steffen's second world record of the week. She had been part of the 4 x 100-meter relay team that included Petra Dallmann, Daniela Goetz and Annika Liebs. The team broke an Australian record when they timed 3 minutes 35.22 seconds on Monday. Her leg was clocked at 52.66 seconds, the fastest of all time.
Record-breaking comeback
Steffen's record-breaking performance caps a remarkable comeback. She had taken a year off from competitive swimming after her best time in 2004 didn't even feature in the best 100 finishes in the world that season.
"In 1999 I won six titles at the junior European championships. But in 2004 I was only in the preliminaries of the relay at the Olympics," she said. "In 2004, I decided to concentrate on my studies more. Then I came back to swimming and now my goal is to swim in the 2008 Olympics in Beijing."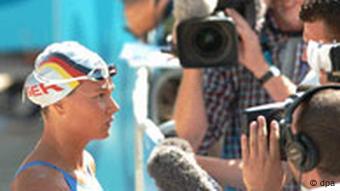 Franziska van Almsick was a German swimming icon
Steffen's achievements in Budapest will raise hopes of further German success in the pool at the Olympics in two years' time and may give Germany a new swimming icon after golden girl Franziska van Almsick retired at the end of the 2004 Olympic games in Athens.
Van Almsick, a record breaker over 200-meters in 2002, reached iconic status with a career filled with world, Olympic and European medals.