German prosecutors are investigating a 43-year-old German in connection to the 2007 disappearance of Madeleine Beth McCann, the Federal Criminal Police Office (BKA) announced on Wednesday.
Public prosecutors in the northwestern city of Braunschweig said he was suspected of the murder of the then-3-year-old British girl.
"You can infer from that that we are working on the assumption that the girl is dead," a spokesman for the prosecutor's office, Hans Christian Wolters, said in a Thursday press conference in Braunschweig. So far, British police had struck a more cautious note, saying they continued to treat the case as a missing persons investigation and were still seeking evidence of whether McCann was still alive.
The suspect is a sex offender with multiple convictions, including sexual abuse of children. He is currently in prison for offenses unrelated to the McCann case.
Read more: Madeleine McCann case: the key events since her 2007 disappearance
Long-running search
The toddler disappeared while on holiday with her family at a resort in Praia da Luz, in the Algarve region of Portugal. She has not been seen since, despite extensive police investigations. She disappeared from the holiday home while her parents had dinner with friends in a nearby restaurant. Her younger twin siblings were unharmed.
Between 1995 and 2007, the German suspect lived primarily in the Algarve region, including in a house between Lagos and Praia da Luz.
The unnamed suspect allegedly supplemented his income by criminal means, including carrying out burglaries in hotel complexes and holiday homes as well as selling drugs.
The prosecutor's office in Braunschweig is carrying out the investigation because the suspect's last registered address before going abroad was in the region.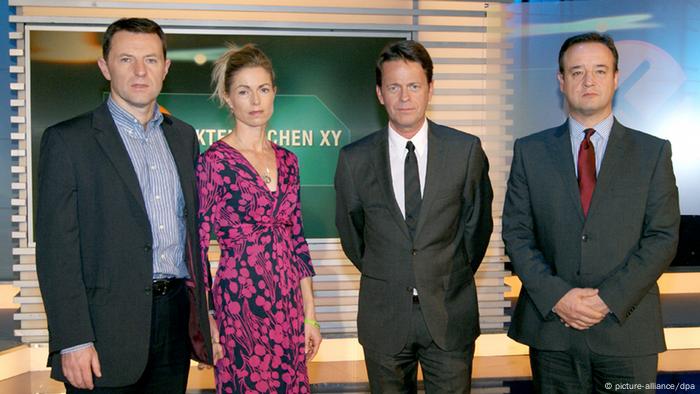 Madeleine's parents had appeared on German crimewatch program 'Aktenzeichen XY' in 2013
Maddie's disappearance was one of the cases being presented in Wednesday's edition of German TV show "Aktenzeichen XY" that regularly asks the general public for help in unsolved crimes. The McCanns had first appeared on the ZDF program in 2013, when a tip-off led police to look into this suspect. Lead investigator Christian Hoppe said that there was not enough information then for an arrest or an investigation. More solid information on the suspect apparently emerged in 2017.
Strong lead
A spokeswoman for the McCann family, Clarence Mitchell, told BBC television on Thursday morning that "of all the thousands of leads and potential suspects that have been mentioned in the past, there has never been something as clear-cut as that from not just one, but three police forces."
The case made international headlines and has frequently resurfaced in the British press over the years. At one point, Portuguese police named McCanns parents as suspects: A libel battle between the initial lead investigator in Portugal and the McCanns went all the way to Portugal's Supreme Court, twice.
Every evening, DW sends out a selection of the day's news and features. Sign up here.
msh, kmm/ng (AP, dpa, Reuters)