Dorlis Seifert, 68, who lives on the outskirts of Goerlitz, near the German-Polish border, is moving into another apartment in a turn-of-the century villa for a one-week, free trial period in October. For the past 28 years, Seifert has lived with her husband Hubert in a low-income housing project where she feels at home, and is not even thinking about settling anywhere elsewhere.
"When it comes to experimenting, I'm all gung-ho", she said. The couple is taking part in a government project called "trial living," which kicks off on Sunday. "Maybe it'll be nice to live in the middle of the city," mused the energetic pensioner.
Anyone can spend a week of trial living in a posh Victorian townhouse for the sake of a research project sponsored by Dresden's Technical University called "Revitalizing the Old Town Center of Goerlitz."
Makeover for abandoned pre-war buildings
The 156,000-euro ($222,000) cost of the project, which is largely financed by the federal government, looks at the advantages and drawbacks of living in pre-war buildings in the town center.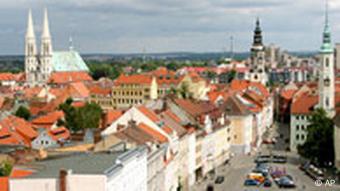 Görlitz lost out to Essen as the European City of Culture in 2010
"[We offer] a new look for an old city center, instead of lamenting its demise," according to Jürg Sulzer, whose team has opted for reviving the old parts of town. In Leipzig and Chemnitz, two other eastern German cities, it's possible for a private investor to take over the property and simply pay for the costs of renovation.
There is enough abandoned housing in the city on the Oder/Neisse River, which forms the natural border between Germany and Poland. About 6,000 apartments in the inner city alone are empty, most of which have hardly been renovated since the fall of the Berlin Wall. They are often in such a state of disrepair that they need to be completely gutted out.
Görlitz's architectural heritage
"Any flat which undergoes a complete, thorough top-quality renovation wouldn't remain empty," said Lutz Penske, head of the city's urban planning board. "And certainly not in the old town center."
Görlitz, which was not demolished during World War II as other German cities were, has a rich architectural heritage with the facades of buildings in Gothic, Baroque and Art Nouveau styles still standing. In 2006 Görlitz and its twin Polish city across the border had applied to be the European City of Culture in 2010, but lost out to the western city of Essen in the industrial Ruhr Valley.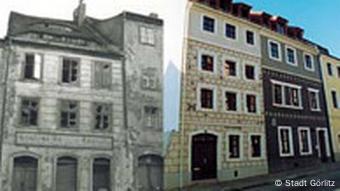 Restoration of pre-war buildings that survived the WWII
Many buildings are under landmark preservation in this city of barely 56,000 inhabitants, which has attracted tourists from all over the world and has been renamed City of Culture to foster German-Polish relations.
Since 2004 there have been more residents coming than going in the population flow, said Penske. Even retirees from western Germany have migrated to Görlitz for the relatively lower cost of living in the east.
In all of Germany, 120 applicants have so far expressed interest in the trial living program. In order to elicit a wide range of responses, the project researchers are recruiting a mixed bag of households, such as couples, families with children, singles or unrelated individuals sharing an apartment, who live outside the city center.
Two model homes are already fully furnished for the initial testing phase and ready for a change of tenants every Sunday. A second phase, which would be of six weeks duration is already being planned for the spring season of next year.