German publishers launched Libreka, an Internet book search machine of their own Wednesday, Oct. 10. They hope Libreka will rival Google Book Search while allowing them to keep control.
Rüdiger Salat, a board executive at Holtzbrinck, the top German-based book publisher, said Google might someday become a partner to publishers. But for now it was still "more an enemy."
Google has undertaken a massive project to scan and index book content. Google scans the complete text so that users can find books which contain a specific word or phrase. Under a policy known as "opt out," Google, which is funded by online advertising, says it deletes any books from its search engine if copyright owners request it.

"Opt out is not the right way," said Salat, whose group has been a key backer of Libreka, the German publishers' search engine. A preview was launched at the Frankfurt Book Fair Wednesday. The Libreka database contains 8,000 German-language books whose publishers have explicitly "opted in" to the idea.

US publishing executive sees opportunities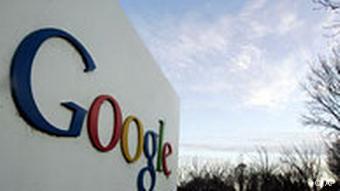 Google has gotten into the book business
While US publishers also have qualms about Google's plans to index books, one executive said that the ruckus might soon come to an end. US publishers and authors began legal action two years ago against Google.

Peter Olson, New York-based chief executive of the world's biggest book publishing group, Random House, said, "I think we are close to resolving our issues. We have so much in common."

Olson, speaking in a discussion between top industry executives on the first day of the fair, said he wants to see Google and publishers charge Internet users small fees to see single pages of books online.

Olson envisions a set-up similar to popular music downloading services such as iTunes, which allow songs to be purchased individually instead of having to buy an entire album. Olson envisions a "pay-per-page" model where a reader could buy single page or chapter. Instead of buying the entire cookbook, a reader could pay for a single carrot cake recipe or get the entire desserts chapter. Giving a share to the book industry would mollify publishers, Olson said.

"I think it makes sense for both sides," said Olson.

Libreka seen as the "anti-Google"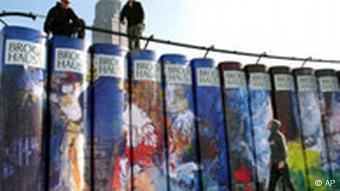 Oversize encyclopedias at the Frankfurt Book Fair
That's a view German publishers don't share, and many have signed on to the Libreka project. Unregistered users of the Libreka.de Web site enter a search word and are shown the titles of German books which contain that word, including images of the front covers, but not the contents.

The project was started in 2005 and has been engineered by a Delhi, India software house, MPS, in which Holtzbrinck is a shareholder. Libreka is an offshoot of Germany's books-in-print database. Its target audience seems to be German bookstores, who could put it on their websites to help shoppers find books they want to buy.

Ronald Schild, head of the Libreka project, said publishers could decide if part or even all of a book should be freely downloadable. The name Libreka not only suggested "books" but also the Latin adjective liber (free) and the Greek exclamation "eureka" (I've found it), Schild said.

Some commentators have called it the "anti-Google," since it tries to keep the publishing industry in control of book searching.

At the Libreka launch, the German association of publishers and booksellers denied any hostility or rivalry with Google. The group said it was in negotiations about cooperation deals with the US company.

"We should not underestimate the potential of Libreka." said Jens Redmer, Google Book Search's chief of European operations. But he said Google Book Search had far more books indexed. He wouldn't say how many German publishers had signed up for the Google plan.