A spokesperson for the Frankfurt prosecutor's office confirmed to the DPA news agency on Tuesday that its investigators had managed to crack the file named "Complex Jack Warner," which appears to refer to the now disgraced top FIFA official from the Caribbean. However, the spokesperson declined to give any details, citing the fact that the investigation was ongoing.
According to the "Süddeutsche Zeitung" daily, which first reported the news, it took investigators from the prosecutor's office 24 days to crack the code and access the file.
The investigators' success in accessing the file raises questions about why the external law firm that the DFB (German football association) hired to look into the 2006 World Cup affair was unable to do so.
In its final report published in March, Freshfields Bruckhaus Deringer said the file was one of several encrypted documents that it had been unable to access.
A month later, Vice President Rainer Koch told the German parliament's standing committee on sports that the German FA could not justify paying a six-digit sum to gain access to data, when it was unclear how useful the information may or may not be.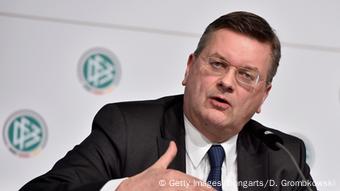 Reinhard Grindel succeeded former DFB President Wolfgang Niersbach, who resigned over the affair.
Dubious payment
The DFB handed over the file to the authorities last month, about a year after police and investigators raided their Frankfurt headquarters as part of the tax-evasion probe connected to a payment of 6.7 million euros ($7.2 million dollars) allegedly for a World Cup gala that never took place.
Prosecutors recently accused the DFB of not fully cooperating in the in the investigation, something that the German FA have denied.
Warner, who has been banned by FIFA from all football-related activities for life, could be a key figure in the affair, as a draft of a contract between him and the 2006 World Cup bid committee has emerged, which was dated just days before Germany won the right to host the tournament.
pfd/ (dpa, SID)