German President Horst Koehler will not sign off on the ratification of the embattled EU's Lisbon Treaty until the country's Constitutional Court decides whether the reform accord is compatible with the country's Basic Law, his office said on Monday, June 30.
Koehler has decided to heed a request from the Constitutional Court not to add his signature to the embattled reform treaty pending its ruling, his office said in a statement.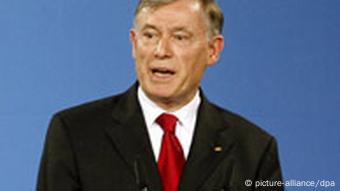 Koehler's move has put pro-EU reform Germany in an awkward situation
"The president is respecting the request of the Constitutional Court," the statement added. The court has not yet set a date to rule on the challenges.
Koehler's functions are mainly ceremonial, but he has sometimes used his limited powers to block government legislation.
The Lisbon Treaty which was rejected by Irish voters in a referendum recently, plunging the bloc into constitutional crisis, is meant to streamline the EU's institutions, simplify decision-making and give the EU more clout on the world stage.
It also provides for a new double majority voting mechanism seen as essential if the 27-member bloc is to expand. All 27 member states must approve the text before it can enter into force.
Koehler's move has put Germany in a tricky situation given that the European heavyweight had pressed EU nations to ratify the treaty as soon as possible after the Irish rejection.
Ireland was the only EU member to hold a referendum on the treaty, in all other EU nations, the decision will be taken by the parliament. Nineteen nations have ratified the embattled Lisbon Treaty in parliament so far, most recently Britain.
Challenge from the Left
In Germany, both houses of parliament passed the law ratifiying the Lisbon Treaty with the two-thirds majority needed earlier this year. But it needs President Koehler's signature for the law to come into force.
However, the Lisbon Treaty faces a challenge in Germany by The Left, a radical left-wing opposition party, and a member of the ultra-conservative Christian Social Union.
The Left says the treaty infringes the principle of democracy and the rights of members of the German parliament. It sees the treaty as giving too much power to the European Council, the council of the heads of state and government, at the expense of national parliaments and the European Parliament.
In 2006, Koehler also delayed in signing off on a forerunner of the Lisbon Treaty. That constitutional treaty subsequently collapsed when it was rejected by Dutch and French voters.