German companies have slashed thousands of jobs this year. The country's three largest carmakers alone -- Volkswagen, Mercedes and Opel -- plan to cut 27,000 jobs. But the negative numbers might not indicate an unstoppable downswing, instead they may be proof of a long-term restructuring of the labor market.

Germany is moving away from having a high proportion of industrial jobs, according to job market specialist Martin Werding of Munich's Ifo Institute for Economic Research. And it's happening more quickly in Germany than in other countries, because, at the same time, many German companies are shifting production abroad, he added.
A recent study by the Federal Labor Agency forecast Germany would lose one million jobs by 2020 -- most of them in manufacturing. The proportion of workers in the branch will drop from more than 20 percent in 2000 to 15 percent in 2010, experts estimate. However, at the same time as agriculture and industry lose jobs, the proportion of people working in the service sector will increase, they say.

Too few service jobs


"Services closely related to industry and business, in particular, are likely to prove to be the most dynamic segments," said Gerd Zika, one of the study's authors. In 2000, service jobs made up around one-third of the German labor market; by 2020, 45 percent of the working population is expected to be employed in the sector.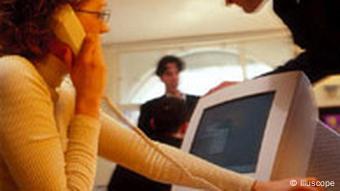 The growing service sector could quell joblessness
But in comparison to other countries, Germany still has too few service jobs partly because the country's workforce was traditionally specialized in industrial production, Werding said. In addition, it started to restructure much later than other countries. Britain, for example, started shifting focus to financial services years ago.
Services could be the key to lowering Germany's high level of unemployment, especially for people with low qualifications, who make up a large part of the jobless, said Werding.

Good for jobless


"However, the sector's development will be hampered by low-wage jobs," he added. Part of the problem is Germany's social welfare system. The relatively high unemployment benefits act as a minimum wage and don't just influence the low-wage sector, but all other wage levels as well, he said.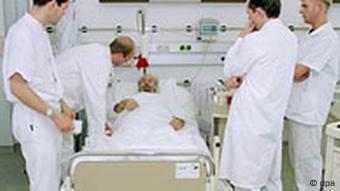 As Germany ages, the demand for health care practitioners will grow
But many more jobs could be created in education, science culture and health care in the long-run. Germany's demographic development could also open new perspectives, Werding said. The more senior citizens there are, the greater the demand will be for medical care. Currently, nursing, with its high demands, is paid badly, which indirectly attracts foreign workers to Germany and encourages the black market.
It shows that Germany's lawmakers have a lot of work to do to smooth the labor market's transition and make Germany a more attractive place to do business, Werding said.