"I'm a person who lost everything in life - except the love for literature," said Abbas Khider, newly-crowned winner of the Hilde Domin Prize for Literature in Exile. It was a love he discovered in his youth, when he began by reading religious texts. Out of admiration for the authors he read, Khider tried his own hand at writing. Then he discovered that literature was "threatening to the regime."
Protesting Saddam Hussein
Khider was born in Baghdad in 1973. Like many in his generation, he wanted to take action against Saddam Hussein's dictatorship. As a young man he worked with outlawed political parties and distributed flyers. Today he admits that he was naive.
"The Village Indian"
"If I had known that I'd be thrown in prison, I probably would not have done it. Or maybe so. I don't know," he said. He was imprisoned for two years. In 1996 he managed to flee to Amman, Jordan - the beginning of an odyssey around the Mediterranean, without papers, doing odd jobs for years on end. He later described the experience in his much-acclaimed debut, "The Village Indian."
Asylum in Germany
Khider eventually found asylum in Germany, where he studied literature and philosophy and delved into the nuances of the German language. Eventually he obtained German citizenship and began writing - in German. Today he says it was in this language that he found his home and his freedom - a freedom that leant him the relentless energy to write novels about his homeland that would otherwise have been buried. His work captures the everyday life of his protagonists and offers diverse societal portraits.
Khider said he wants to present the people in the Arab world "as they are," from a distance but without hatred, and with a humanistic approach. He succeeds in his second novel, "The President's Oranges," just as effortlessly as his most recently published, "Letter Into the Aubergine Republic."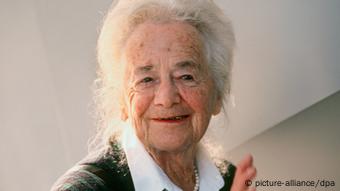 Domin described herself as a "messenger of reconciliation"
All of his books have sparked great interest, and the author has been a guest speaker at many literary events. He also received numerous fellowships and prizes for his work, but the latest one, the Hilde Domin Prize for Literature in Exile, is more than just an honor.
Kindred spirit
Khider described the late Hilde Domin as his "German mother." Domin was also an exiled writer - during Nazi rule in Germany, she found asylum in the Dominican Republic, and it was there that she became a poet. She later returned to Germany, where she described herself as a "messenger of reconciliation," before passing away in 2006. Domin and Khider shared the view that literature is the path to greater understanding in the world.
Khider prefaced his novel "The President's Oranges," with a poem by Hilde Domin, "Promise to a Dove," which features poignant scenes from Khider's youth, especially his friendship with a pigeon breeder.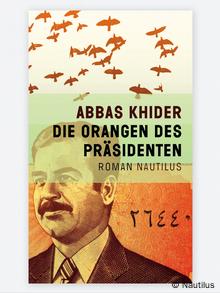 "The President's Oranges"
Hard-earned recognition
The 15,000-euro ($20,000) prize has been funded by the city of Heidelberg since 1992, in recognition of Domin's 80th birthday, one of the city's honorary citizens. Since then the award has been granted every three years to writers who publish in German and live in exile or are descendants of exiles.
Accepting the award, Khider said he hoped it would help him gain recognition, and describes the experience of exile as a "project" and a perpetual struggle against sadness and cruelty. Now, thanks to the award, Khider said he had the feeling that his project was achieving results. And that, he said, was a wonderful feeling.