The German government decided on Wednesday to revive the SoFFin bank rescue fund, where ailing banks will be able to deposit state loans in a "bad bank."
A bill to reactivate SoFFin, initially set up in 2008 at the height of the global financial crisis and equipped with 400 billion euros ($522 billion) of guarantees, was approved at the last cabinet meeting of the year, government spokesman Steffen Seibert told a regular news conference.
It still faces a vote by the lower house of parliament, the Bundestag, before it can take effect in law, probably in February.
Relief for Commerzbank
The decision is likely to be a particular relief to Commerzbank, Germany's second largest bank, which recently had to write off billions of euros in state loans belonging to subsidiary Eurohypo.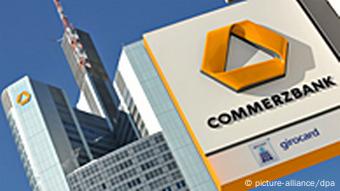 Commerzbank needs to find more than five billion euros somewhere
A "bad bank" to contain all of Eurohypo, or at least the toxic assets on its books, would be a huge help to Commerzbank, which has until June to fill a 5.3-billion-euro hole. According to an agreement with the European Banking Authority (EBA), Commerzbank must propose a plan to solve this problem in January.
The EBA said last week that Germany's six biggest banks needed to raise a total of 13.1 billion euros in new capital to withstand future financial shocks - Deutsche Bank, the country's biggest, needs 3.2 billion euros. The government has now taken drastic measures to help its banks out.
Commerzbank's finance chief Eric Strutz recently reiterated the bank's determination to meet its targets without state bailouts. "We still have no intention of applying for additional public funds," he said.
State benefits
The German cabinet also removed a clause allowing the government to force a bank to seek help from SoFFin when its recapitalization needs pose a danger for the whole banking sector. Instead, under the law, German financial sector watchdog BaFin will oversee banks' recapitalization plans and have the possibility to demand changes or improvements.
If it is unsatisfied, it could put an official in place, mandated by the government to effectively replace the management of the bank and who would then seek SoFFin's aid.
The news went down well on the stock markets. Commerzbank's share price - tanking only recently - gained seven percent during the day.
Author: Ben Knight (AFP, Reuters)
Editor. Michael Lawton