In an interview with news agency AFP, Steinbrueck said he recognized the need to stimulate Europe's largest economy, but that cutting rates and thereby boosting spending and debt levels was the wrong move.
"On the one hand we need to boost the economy, on the other hand we must make sure that a policy of cheap money does not lead to a new growth bubble founded on credit, as happened after Sept. 11, 2001," Steinbrueck said.
"It is therefore important that the focus, at least in Germany, be on sustainable investments in infrastructure and less on consumer spending financed by debt," he told AFP. "This is also an argument against hasty tax cuts," he added.
With global money markets taking a battering in recent months and consumers reining in their spending on fears of future instability, central banks around the world have taken to reducing borrowing costs to motivate shoppers into parting with their cash.
Tax cuts unintelligent: Steinbrueck
Germany released an economic stimulus package in November aimed at spurring growth, but Chancellor Angela Merkel's government has come under pressure to do more to ease the economic strain on Germany.
Merkel's cabinet is to meet January 5 to discuss a second stimulus package, but Steinbrueck insists there will be no place in the second plan for tax cuts.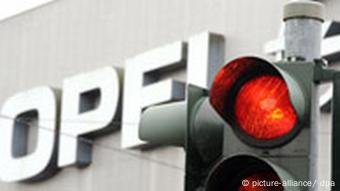 German automaker Opel is waiting on a government package to help it out of trouble
"What we do must be intelligent, be fair to future generations and reap future benefits," he said. "Making temporary cuts in value added tax (VAT), for example, fulfils none of these criteria."
Steinbrueck told the Passauer Neue Presse daily that reducing Germans' health insurance contributions would be more effective in putting money into consumers' pockets because half of all households already paid zero income tax.
The second package is likely to help the struggling German auto industry and as well as untangle significant infrastructure projects caught up in red tape, the finance minister said.
EU approves German method to ward off recession
Parallel to Steinbrueck's calls for refraining from increasing consumer debt levels, the European Union's executive approved Tuesday a German initiative to stave off recession by offering firms over 15 billion euros ($21.3 billion) in low-interest loans.
The plan is aimed at protecting the "real" -- non-financial -- economy from recession. It was the first such package to be approved under the European Commission's revised system.
The package consists of a loan fund of up to 15 billion euros for companies which have difficulties in borrowing money due to the global financial squeeze.
The maximum low-interest loan any one firm can receive from the scheme is 50 million euros, with companies whose turnover is greater than 500 million euros per year excluded.
The plan also includes a separate program capped at 500,000 euros per company for emergency grants to firms operating on the local or national level.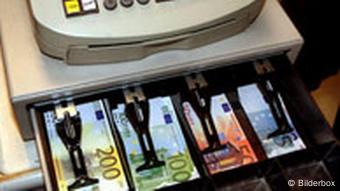 The loan plan is designed to stimulate cash flow in the real economy
Rules changed
Both programs are short-term and were drawn up in line with the Commission's recently revised rules on state aid, the Commission said in a statement.
In recent months, the Commission has dealt with a slew of state-aid cases as EU member states have rushed to protect their financial sectors in the global financial storm.
The pressure has been so great that the Brussels executive has revised its own state-aid rules to make it easier to deal with the crisis.