A South Korean man is suing former German Chancellor Gerhard Schröder for allegedly having an affair with his wife, now Schröder's future bride, while she was still married to him, according to a report by the Yonhap news agency on Monday.
Although extramarital affairs ceased being a criminal offense in South Korea in 2015, affairs can still give grounds for civil legal action.
The report cited a document submitted to the court that accused Schröder of causing the ex-husband of Kim So-yeon "unbearable mental distress."
"Our marriage eventually fell apart, and the accused should be held responsible for his action," the document said.
The man, whose identity was withheld, is reportedly asking for 100 million won ($936,000, €772,717) in damages.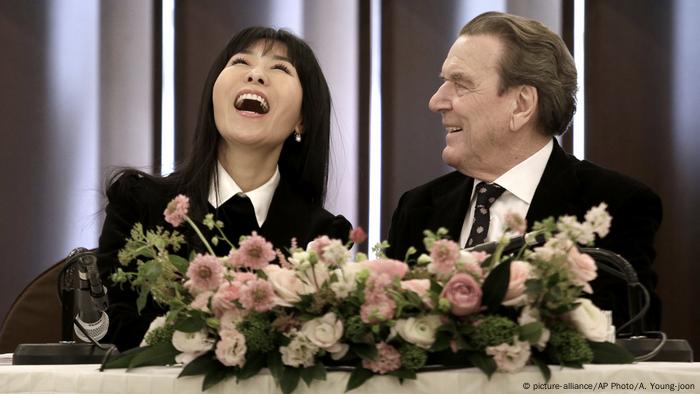 Kim and Schröder are set to marry around autumn 2018
Fifth time round
Schröder, 74, who has already been married four times, announced in January that he would wed Kim, a South Korean translator, who divorced her husband last November. He himself divorced his fourth wife, Doris Schröder-Kopf, earlier in April, after long proceedings that started in 2016.
Schröder-Kopf said last September that Kim had played a role in the breakup of her marriage. Schröder has insisted that this is not the case.
Kim, 48, is is a Seoul representative of the Economic Development Agency of the German state of North Rhine-Westphalia. She has worked for Schröder as a Korean translator.
Read more: Ex-Chancellor Gerhard Schröder moves on from fourth marriage
Controversial ex
The ex-German chancellor, whose multiple marriages have earned him the soon to be out-of-date nickname of "Audi man" — a reference to the four-ring symbol used by the carmaker — has come under fire in recent months for taking on a position on the board of Russian energy giant Rosneft. The post is contentious, with Russia continuing to be the target of EU sanctions over its role in the Ukraine conflict and its annexation of Crimea.
Schröder, who belongs to the Social Democratic Party (SDP), was German chancellor from 1998 to 2005. The labor market and welfare reforms he introduced during his time in office were highly unpopular with the leftist elements in his party.
Read more:The Rosneft seat and Gerhard Schröder's Kremlin credentials
Every evening at 1830 UTC, DW editors send out a selection of the day's hard news and quality feature journalism. You can sign up to receive it directly here.