When the then ruling coalition of Social Democrats and Greens enacted the container deposit legislation, there was criticism from all sides. Retailers and beverage companies feared their business would be hurt and went to the Federal Constitutional Court in an attempt to stop the "mandatory deposit" on non-reusable containers. But it wasn't just the industry,
Jürgen Trittin, the environment minister at the time, had to defend himself from attacks from environmentalists - they saw the deposit as a threat to the use of reusable containers.
"Stop littering the landscape"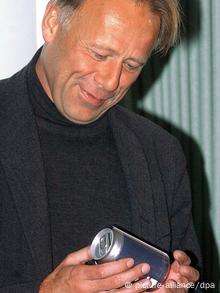 Green Party head Jürgen Trittin was environment minister when the deposit was introduced
Trittin pushed through the mandatory deposit for disposable packing in 2003. Current deposits are 0.08 euros ($0.11) for a reusable container and 0.25 euros ($0.33) for a disposable container.
"This was about stopping the littering of the landscape, to improve recycling and to protect the reusable system [for containers]," Jürgen Resch, the head of German environmental organization DUH, told DW. "The outstanding success is that 2 to 3 billion beverage cans and plastic bottles are not being thrown away every year in the country anymore."
But there's a down-side as well. The share of reusable containers dropped below 50 percent. Does that make the container deposit law pointless? Reschen said that figure would even be lower without the law.
"We see what would happen if we had no mandatory deposit with containers for fruit juice for which there is no deposit - the proportion of reusable [containers] is 6 percent," he said.
No fair competition without a deposit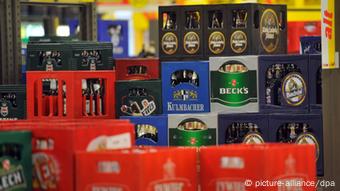 Germans prefer to drink their beer from glass bottles
Resch said there is one way of raising the share of reusable containers.
"All one-time use bottles should have a deposit," he said, adding that such a plan would level the playing field for all packaging producers as they would no longer have the convenience of non-deposit containers to help them attract customers.
Major drink manufacturers are benefitting from the current system that does not require deposits on all containers, Resch added.
"If we want to protect Germany's many small bottlers of mineral water and fruit juice, and breweries, we have to adjust the price," Resch said.
He also said the environmental benefit of recycling should not be ignored.
"If you look at reports on the littering of the North and the Baltic seas with plastic bottles and other plastic waste then you understand why this type of packaging must not allowed to end up in the sea and threaten the ecosystem because of carelessness," he said.
Canned beer gets the can
The deposit law was markedly effective in reducing the number of cans sold - they have disappeared from most store shelves. Retailers made their decision on the basis of costs, according to Gerhard Kotschik, an expert on packaging at the Federal Environment Agency, which advises German government on environmental issues.
"The law states that whoever sells cans subject to a deposit must accept returns of all such cans, including those from the competition," he said. "This also applies to glass and plastic."
For the sake of convenience, many businesses decided for one system: in most case for plastic. Beer, however, represents the exception to the plastic beverage rule as about 90 percent of beer in Germany is sold in reusable bottles.
"Beer from plastic is not accepted, unlike water and fruit juice," says Kotschik.
Changing lifestyles and consumer choice
Clear signs are supposed to help consumers go for reusable containers
Kotschik also said the share of reusable containers would be even lower if it not for the mandatory deposit.
There were several reasons for the increase in disposable packaging, he said. More and more people buy all foods and goods they need, including beer, water and juices, in a single store rather than a shop that specializes in beverages. An aging German population also plays a role as older people have an easier time carrying home lighter plastic bottles instead of glass ones.
For consumers to go for the more environmentally friendly reusable bottles, Germany's federal government decided that as of 2014 supermarkets and discount stores need to provide clear signs stating whether a packaging is single-use or reusable.
"We found that many people can't tell the difference between disposable and reusable packaging," Kotschick said.
There is a deposit on plastic bottles with water and soft drinks, which leads to many being returned and recycled. But these bottles are destroyed to make new ones. Reusable bottles are more environmentally friendly. Glass bottles can be cleaned and refilled 50 times, which uses less energy and produces less waste than creating new, recyclable bottles.