A carnival skit poking fun at Pope Benedict XVI has raised a debate on just how far political cabaret can satirize certain topics.
The carnival gala Stunksitzung plans to show the sketch in which Pope Benedict XVI as a pop star and the archbishop of Cologne, Cardinal Joachim Meisner, as a wannabe pop star lie in a bed together. The two end up smooching.
A private citizen has now pressed charges against the Stunksitzung for "disrupting religious peace." Public television channel WDR, which will broadcast the gala on Saturday, has decided to cut out the controversial part. The station said its policies prescribed respect of religious feelings, which they said would have been hurt if the skit was broadcast.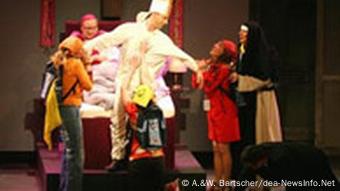 Should satire be allowed to present the pope as a pop star?
Winni Rau, spokesman for the Stunksitzung, said the skit was an interpretation of the pope's pop star qualities during World Youth Day, which took place in Cologne last summer. He said he didn't agree with WDR's decision.
"What is satire allowed to do in the western world?" Rau said. "We can debate this issue, but not forbid it."
Rau said he wished WDR would have had "more courage." "I really think it's a shame," he said. "It could have showed that we here in the West can also mock our own culture and religion."
People have to be able to handle satire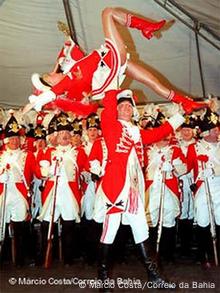 The Rote Funken are a popular carnival society
The Stunksitzung is an alternative to the traditional galas, which mainly take place in the German Karneval strongholds Cologne, Düsseldorf and Mainz. The galas are a regular part of the so-called "fifth season" between its kick-off on Nov. 11 and the actual carnival week, which starts on the Thursday before Ash Wednesday. They include singing and dancing, but also orators, who address various political and societal topics.
Rau said the Stunksitzung considers itself political cabaret.
"This satire can and should also be directed against the church or political topics," Rau said. "In the case of cabaret or satire, people have to be able to take it. It is part of our culture."
Cologne just wants to have fun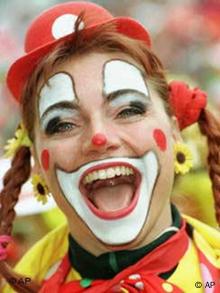 You'll find more happy than sad clowns in Cologne
In Cologne, though, political and socio-critical issues have never been at the top of the carnival agenda, and they won't be this year either.
"Our philosophy is that Carnival should be fun and friendly," said Sigrid Krebs, spokeswoman for the city's carnival committee.
Krebs said there would be satirical floats in the Rosenmontag parade on carnival Monday, one of the highlights of the "fifth season."
"But they have never been aimed at harming or offending people nor will they in the future," Krebs said.
Düsseldorf wants to avoid religious provocation
Just 40 kilometers (25 miles) further north, in Düsseldorf, political and religious critique have been much more common in the past.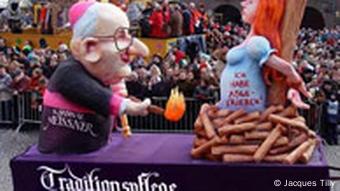 This float had the motto "fostering tradition"
Last year, a float showed Cardinal Meisner striking a match to a woman tied to the stake, the words "I had an abortion" written on her. In 2003, the Düsseldorf procession showed Angela Merkel, today's chancellor, coming out of Uncle Sam's behind -- a statement on her support for the US invasion of Iraq.
Bernd Jost, spokesman for the Düsseldorf carnival committee, said there would not be any floats dealing with religion this year.
"In view of the current debate, we will be keeping very clear of things related to Muslims," Jost said. "We don't want to fuel hatred."
According to Jost, the well-being of the parade spectators was the top priority for the committee.
The cartoon controversy is also not an issue on the agenda in the third carnival stronghold, Mainz. Local and national issues are more a priority in the city's Rosenmontag parade.
Turning the world on its head
Karneval has its origins in the Middle Ages and is traditionally a Roman Catholic celebration. It is closely associated with Easter, as it always ends on Ash Wednesday, marking the beginning of Lent.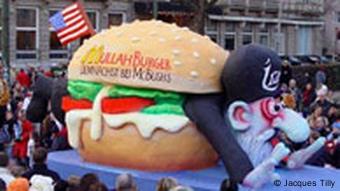 A so-called Mullahburger, shown in Düsseldorf last year, does not reflect carnival tradition
Parody and mockery are part of its tradition, said Matthias von der Bank, a historian from Cologne's Carnival Museum.
"But it wasn't satire like we have today," von der Bank said.
"In the Middle Ages, carnival was a festival of reverse worlds and a playful expression of this," von der Bank said. "So Christian symbols, for example, were turned upside down."
But, he added, slandering the church was and is not part of carnival's festivities.