Technology and innovation were the keywords of the 1990s, with much of the research in these fields being done at universities. In order to facilitate the transfer of the research results from the academic to the commercial spheres, the Massachusetts Institute of Technology launched the first modern-day business plan competition.
The MIT Entrepreneurship Competition was a success. Following a trip to the United States, Professor Dr Sven Ripsas, the director of the EIB Institute for New Entrepreneurs in Berlin, brought this idea back with him. He started the first Berlin Business Plan Competition in 1995.
Ripsas' goal was to create an environment that would help entrepreneurs found innovative businesses by drawing on the combined resources of regional universities, technical schools, governmental agencies, as well as capital providers.
The idea caught on, and within a few years a number of business plan competitions sprung up throughout the country.
One of them is the 'promotion Nordhessen', which focuses on the northern region of the German state of Hesse. It was started in 1999 by the state government in cooperation with the carmaker Volkswagen.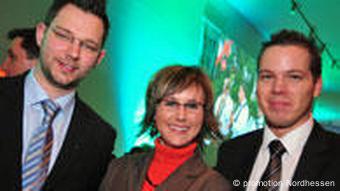 Alexander Luehrs (right) organizes the 'promotion Nordhessen' competition
Purpose and focus
The global financial crisis has not weakened, but rather reinforced the competition's mission, according to Alexander Luehrs. the project leader of the promotion Nordhessen.
"Existing businesses have been affected by the crisis much more than the people founding new businesses," Luehrs says. "The crisis provides technologically-oriented and innovative entrepreneurs with opportunities, including the opportunity to discover and enter new market segments."
"It is precisely these projects which will, also in the future, make a positive contribution to our state's ability to compete. They develop new markets and create new services which in turn will be in demand from third parties," he says.
"In northern Hesse we are still supporting a multitude of innovative start-ups which remain in the market, even in this time of the economical crisis. These companies have, as a rule, a clientele which has not been affected by the crisis."
The current project leader of the Berlin-Brandenburg Business Plan Competition, Dirk Maass, agrees: "There are also many branches which are not affected by the economic crisis, for example, health care services. In these branches the demand for services has not changed."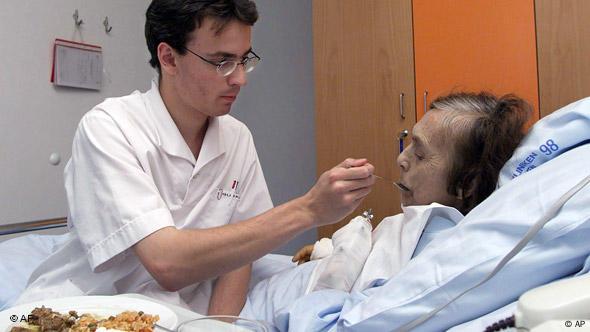 Business plan competition organizers see a lot of potential in the healthcare sector
Participation
Organizers of business plan competitions in Germany say the economic downturn has had little impact on participation rates.
Raymond Horn, CEO of the consulting company Optimists, told Deutsche Welle that the seminars he leads within the framework of the Berlin-Brandenburg Business Plan Competition have all had, as usual, full attendance.
There is also no significant change at the Technologie Coaching Center (TCC), an institution funded by the EU and the state of Berlin. The TCC provides subsidized coaching for technology-oriented firms. According to its CEO Andreas Bissendorf, the economic crisis hasn't caused any changes in the behavior of the new entrepreneurs who come to the TCC.
Although the business plan competitions' focus remains on promoting technology and innovation, there are a wide variety of people who participate. Some start with absolutely no business experience ("What is a financial statement?"), while others are far along in implementing their business plans and are only looking to make the contacts that such a competition offers.
A multitude of projects were presented at this year's promotion Nordhessen, ranging from high-tech software, energy, and biotech ideas, through water purification systems for third world countries and an originally-designed stool for assembly line workers, to technologically simpler ideas such as pedagogically innovative kindergartens and an escort service for seniors.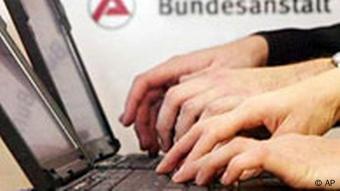 Many entrepreneurs see their business plans as insurance against unemployment
Alexander Luehrs says the crisis may actually be motivating more would-be entrepreneurs to take the plunge and pursue their start-up project as a second job.
"People are trying to keep their present jobs while experimenting with other ways to make money," he says. "They want to be able to react in case they actually do lose their jobs."
Financing
Demand for innovative ideas remains high, and capital providers are still looking for the next big thing. Luehrs says: "Venture capital firms and business angels are very active on the start-up scene. There's been an increase in investment in future-oriented technologies, for example regenerative energy. Venture capitalists are also investing in web-projects, especially web 2.0 development."
Additionally, not all entrepreneurs are forced to rely on external capital. Business plan competition organizers say government-backed programs such as those run by the federal KfW development bank and other state lenders continue to provide funding as well.
Success stories
One of the success stories from the promotion Nordhessen is Yatta Solutions. This software company offers an integrated tool suite for programming and model-driven development.
Founded in 2008 at the very beginning of the crisis, Yatta Solutions and its management are still very confident. In spite of the financial crisis they were able to find the capital they needed and since then have exceeded their own business plan.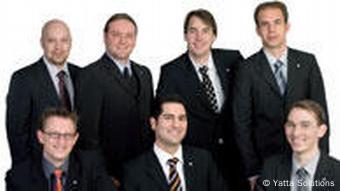 The Yatta Solutions team turned its business plan into reality in 2008
The company currently consists of eight software and business process engineers, and a commercial lawyer, all around 30 years old. They have known each other for years, working on software research together at the university. All had been offered promising career opportunities in other fields when they decided to found Yatta.
Johannes Jacop is co-CEO and a commercial lawyer. When asked if his hopes for the company have been reduced because of the crisis, he answered: "No, to the contrary, we see the crisis as an opportunity. People want to optimize and reduce their software engineering costs. In fact, we've actually decided to invest more than originally planned, and are already looking for additional staff."
Another business fresh from the promotion Nordhessen, is FSAVE Solartechnik. FSAVE was founded in March 2009 as a spin off from the University of Kassel. It is made up of ten employees and specializes in custom installations of solar-powered climate systems for home, office, and industry.
Roland Heinzen, 33 year old co-CEO, says that his company hasn't suffered any negative consequences because of the economic crisis, and in fact, in these tough economic times, people are especially interested in the regenerative energy the company offers in order to save money.
The bottom line
The bottom line is that for newly founded leading-edge companies the current economic crisis is an opportunity and not an impediment. It is in times like these that potential customers look for new technologies and innovative concepts.
Start-up activity linked to the promotion Nordhessen has remained dynamic in the technology and innovation sectors, with only a slight decrease in the number of new companies founded in other sectors.
In the end, the global economic crisis has had little effect on the business plan competitions which continue to do their job in promoting the creation of new, innovative, businesses. There is perhaps an increase in the level of insecurity with regard to financing, but all in all, Germany's budding entrepreneurs are saying "Crisis? What crisis?"
Author: Gary Levinson
Editor: Sam Edmonds