The family minister, who will present a report on families on Monday, said the rise in the number of children was especially pronounced in women between 30 and 40 years of age. Men are also expressing their desire to have more kids, she told the Bild am Sonntag newspaper.
After years of declining birth rates, the country reached a low in 2006, with 673,000 births. That was 27 percent lower than in 1946, when Germany was just emerging from the devastation of World War Two.
The turning point came in 2007, when Germany registered 685,000 births, 12,000 more than in the previous year. The upward trend continued last year with around 690,000 births, according to a prognosis by the Federal Statistics Office, an increase of 5,000 over 2007.
New thinking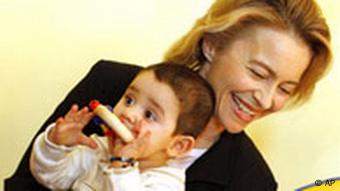 Family Minister Ursula von der Leyen
Von der Leyen said the reason behind the continuing rise in birth rates was a change in mentality.
"Young people have the feeling that the society will not simply leave them behind as parents," she said.
Von der Leyen, herself a mother of seven, introduced a parental leave reform in 2007 which included new benefits for German fathers allowing them to stay at home for a time with their children. The minister said her goal had been to lower the hurdles couples felt about having children.
According to surveys, 56 percent of stay-at-home mothers would like to work.
"But not at any price," said von der Leyen. "They want good child care and part-time work. We have to meet these mothers halfway."
One survey carried out by the report found that 50 percent of those asked said the family policies of the current government had improved the situation for families. Around one-third said the situation had not changed.