A new center was opened at the Boeselager German army base in the town of Grafschaft in western Germany on Wednesday, designed to help protect soldiers from home-made bombs planted by the Taliban in Afghanistan.
As German troops are increasingly fighting Afghan insurgents in rural areas, army leaders believe that better technical information on improvised explosive devices, or IEDs, and that new anti-IED strategies can save lives.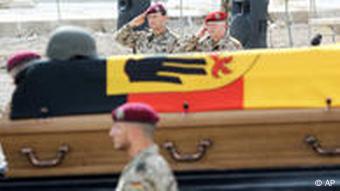 German casualties in Afghanistan are on the rise
According to the NATO-led International Security Assistance Force (ISAF) in Afghanistan, the number of Taliban attacks using IEDs has risen sharply in recent years - from about 2,600 in 2007 to more than 8,000 in 2009. Last year alone 322 soldiers died and more than 1,800 were wounded in IED attacks.
Lieutenant Colonel Helmut Beck of the German army says that this number is likely to rise even further. "We've observed a clear trend in which the Taliban are increasingly using homemade explosives rather than conventional devices such as mines," he told Deutsche Welle. "IED's are usually contained in infamous yellow canisters that every ISAF soldier fears, and they are made in backroom laboratories with ever bigger quantities of explosives."
Gaining an edge
Beck is the head of the new Bundeswehr research center, called Counter IED. It has been set up to investigate the technology behind such devices and to design new methods for detecting and defusing them.
If they come across an IED, German troops in Afghanistan can be put in direct contact with specialists at the center to get immediate advice. Beck hopes this will give the soldiers a technological and hopefully a military edge over the Taliban.
"The more our troops know about the dangers of IEDs, the better they are prepared when they face one," he said. "Good protection and effective counter measures are essential in preventing soldiers from getting killed."
Severe trauma
IEDs are also responsible for severe psychological problems among soldiers because of the persistent fear they induce. Latest figures show that the number of German soldiers returning traumatized from Afghanistan has more than doubled over the past two years.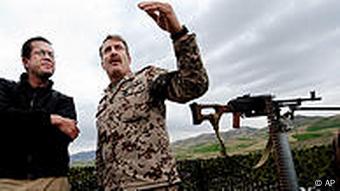 Germany is looking for new strategies in Afghanistan
Peter Zimmermann, a senior Bundeswehr trauma specialist, says that the armed forces should do everything they can to better prepare troops for their mission.
"The Bundeswehr has intensified its training efforts not only to protect soldiers against attacks but also to prepare them for the psychological stress that armed conflict creates," Zimmermann said. "For that we've stepped up research into ways to improve soldiers' mental fitness."
After more than half a century without being involved in combat, the German army has once again been forced to come to grips with the harsh realities of missions like the one in Afghanistan. In view of the rising death toll, the center could be a small step towards restoring belief among the German public that the Afghanistan mission can be brought to a successful conclusion.
Author: Uwe Hessler (bk)
Editor: Rob Turner